The Hope of Glory, Volume Two
A Devotional Guide for Older Adults
"The Hope of Glory is chock-full of inspiring devotional lessons that will encourage and challenge older adults to embrace their divine calling in late life." –Missy Buchanan, author, Living with Purpose in a Worn-Out Body,Voices of Aging, Beach Calling, and From Dry Bones to Living Hope
In Volume Two of The Hope of Glory, Nancy Parker Brummett delivers a devotional guide with 57 NEW inspired lessons for older adults and those leading devotionals in retirement homes, care facilities, senior centers, or Sunday school classes. As with Volume One (see below),these time-tested devotions will restore a sense of purpose and instill the gospel message of hope in all who experience them. They remind us of who we are in God's eyes: not old and useless but people created in His image who still have a life to live, a story to tell, and a future of eternal glory! Don't know what to discuss with older relatives you visit? Each Volume of The Hope of Glory includes 342 interactive questions to breathe life into every conversation. (Iron Stream Media, 2022.)
For individual or group use.
Now available in print or eBook formats from Amazon.
---
Take My Hand Again
A Faith-Based Guide for Helping Aging Parents
The change in roles when adult children must begin caring for their aging parents is confusing and daunting. Those who wish they had a good friend or neighbor who traveled this path before them will find this companion guide especially helpful. Addressing the difficult decisions adult children face when they must intervene in a parent's care, Take My Hand Again includes an overview of common care options and questions to ask—of professionals, of prospective care facilities, and of the aging adults themselves. Readers will find much-needed hope and encouragement from real-life stories sprinkled with humor and relevant Scripture that give valuable insight into the challenges of the aging process. This book provides practical help for every step of the caregiving journey. (Kregel Publications, 2015.)
Now available in print or eBook formats from Amazon.
---
The Hope of Glory
A Devotional Guide for Older Adults
The Hope of Glory is a devotional guide with 57 lessons for older adults and those leading weekly devotionals in retirement homes, assisted living residences, skilled nursing facilities, senior centers, or Sunday school classes. These time-tested devotionals will restore a sense of purpose and instill the Gospel message of hope in you or the older adults you know and love–as they remind us all of who we are in God's eyes: not old and useless, but men and women created in His image who still have a life to live, a story to tell, and a future of eternal glory! For individual or group use. (Lighthouse Publishing of the Carolinas, 2014.)
Now available in print or eBook formats from Amazon. Winner of an Illumination Book Award for exemplary Christian books.
Christian Devotions Speak UP! REBROADCAST Nancy Brummett
---
Reconcilable Differences
Two Friends Debate God's Roles for Christian Women
Written with co-author Alice Scott-Ferguson tri.embrace@gmail.com, Reconcilable Differences presents honest answers to 25 perplexing questions that women ask, such as: Must a wife submit to her husband? What is a woman's role inside the church? Can a Christian be a feminist? Writing from the complementarian (Nancy) and egalitarian (Alice) viewpoints, Nancy and Alice disagree in a spirit of love and unity that leads readers toward forming their own beliefs about these important issues. (David C. Cook, 2006.) Winner of an Illumination Book Award for exemplary Christian books.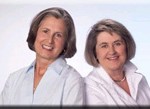 Nancy and Alice met in a writers' group and developed a love and respect for one another before discovering their opposing views about the roles of  women.
---
It Takes a Home
And Other Lessons from the Heart
Parents want to build strong families and raise responsible, Godly children, but they often don't have the tools they need. The "village" confuses them with an overload of misdirected advice. It Takes a Home provides real life lessons and experiences, as well as guidance from trusted experts. The questions labeled "Homebuilders" at the end of each chapter further lead parents, especially moms, to think carefully about their roles and the power they have in their homes to truly make a difference. Written with compassion and humor. (David C. Cook, 2000.)
NOW available as an eBook from Amazon.
---
The Journey of Elisa
From Switzerland to America
Based on the true story of an immigrant family, The Journey of Elisa is a story of faith in the face of adversity for readers 8-12. In the story, Elisa travels with her family from Brazil, where her father is Swiss Consul, to Tennessee. The family endures tragedy and their faith is tested, but Elisa learns that even when we suffer great loss, our faith and God's love comfort us and give us hope. Based on diaries from Nancy's great-grandmother. Also available in French. (David C. Cook, 2000)
Watch Nancy's video introduction to The Journey of Elisa – Part 1, Part 2, and a funny story about the book.
Available as an eBook from Amazon.
---
Simply the Savior
A Woman's Search for Simple Joy
Relying on what Jesus taught about simplifying life for guidance, this book helps the reader move from a fast-paced, hectic life to one filled with simple joy. Only Jesus can help you choose priorities with eternal significance, command the storms crashing in on you to be still, and keep you from yearning for more than you have…more than you need. 15 short chapters with titles like: Simply Believe, Simply Trust, Simply Love, and Simply Abide make Simply the Savior perfect for personal devotion time. Also available in German. (David C. Cook, 1998.)
Watch Nancy's video introduction to Simply The Savior – Part 1, Part 2, and find out what readers are saying.
NOW available as an eBook from Amazon.
---
Pobody's Nerfect
Featuring Farley the Technicowlor Calf
In Pobody's Nerfect, Farley is a young calf born with colored spots instead of black and white spots like all the other cows. He's sad about his differences until he finds out that his friends really like him best just the way he is! Originally published in 1991, this beloved children's book (for ages 4 and up) is back because of requests from young parents who remember the book from their childhood and want it for their children. Words by Nancy Parker Brummett and pictures by Kristin Kennedy. 24 pages. (Current USA, Inc., 1991, 2013.)
Available in print or eBook from Amazon.
---
Titles may be out of print at any given time but should still be available through retail bookstores, Amazon.com, ChristianBooks.com, BarnesandNoble.com, Alibris.com or from the author.
Nancy Parker Brummett also wrote or contributed to:
New Testament for Women (International Bible Society, 1997)
Walk with Jesus (Publications International, 1999)
Prayers for Good Times and Bad (Publications International, 2000)
Prayers for Life (Publications International, 2002)
HUGS Bible for Women (Thomas Nelson, 2008)
A Woman's Daily Prayer Book (Publications International, 2011)
Prayers for Every Day (Publications International, 2011)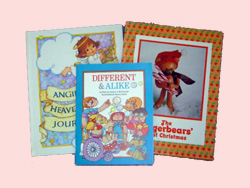 From 1982 until 1992, she wrote over 20 children's books for Current, Inc., under the names Nancy P. McConnell and Nancy P. Brummett. These are now out of print, but some of the best selling titles were:
Different & Alike
Young & Old Alike
The Gingerbears' First Christmas
The Gingerbears Save Christmas
Angie's Heavenly Journey
Pobody's Nerfect
Dusty D. Dawg Says NO