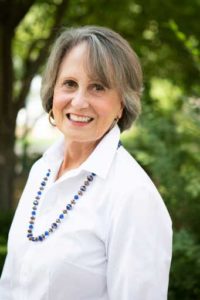 Nancy Parker Brummett is a freelance writer, author and speaker living in Colorado Springs, CO. Her book Take My Hand Again is a companion guide for those caring for older adults. The Hope of Glory, a devotional guide for older adults, released in 2014 and Volume Two of this book released in March, 2022.
Nancy's earlier titles include Simply the Savior, It Takes a Home, The Journey of Elisa, and Reconcilable Differences. She also republished a popular children's book, Pobody's Nerfect. A conversational style and genuine desire to lead others closer to the heart of God are the hallmarks of Nancy's writing and speaking ministries. Now she is focusing on reaching out to the precious elders in our society and those who care for them.
A wife, mother, stepmother, grandmother, and great-grandmother, Nancy writes and speaks from her heart and inspires readers and audiences to respond with theirs. Nancy and her husband Jim were married in 1988 and have four adult children, 12 grandchildren and two great-grands in their blended family. She works at home with her office cat, Annie.
Educational and Professional Experience
Graduate of University of Tennessee; BS in Journalism, MS in English Education
Recipient of the Professional Advancement Certificate in Gerontology from the University of Colorado in Colorado Springs
Graduate of CLASS: Christian Leaders, Authors and Speakers Service
Editorial Manager, Current, Inc. (On staff, 1979-1995; and freelance)
Former columnist for the Gazette, The Pueblo Chieftain and Focus Over Fifty (web page)
Writer of articles, columns, product and catalog copy for social expression companies and Christian organizations, including: Focus on the Family, Biblica, Abbey Press, Current, Inc., and Best to You
Regular columnist for Country Register and Pikes Peak Senior News
Marketing and advertising consultant to social expression companies and Christian organizations
"As we wind up the season I want to say thanks for all you do, Nancy.
You've been a great addition to our staff and I
so appreciate the talent you bring – and your flexibility."
– Denise, Product Manager
Community Involvements