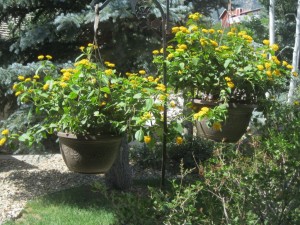 The down side of volunteering with older adults, and getting to know and love them, is that the chances are pretty high you will also have to say goodbye to them in this earthly life and be separated from them for a while. Such was my loss when Lee (short for Leora Jane), one of the residents of an assisted living facility who faithfully attended my weekly Bible study for over two years, died suddenly this month.
I was on vacation when Lee died, but a friend who was filling in for me for the summer called to let me know. I was so glad to find out about a memorial service that was to be held for Lee and to be able to attend when we returned. There I learned so much more about her life than just the last few years spent in assisted living.
Lee loved sitting outside the facility in her wheelchair. Every Wednesday when I arrived, except on the most blustery of days, she would be by the front door. She always greeted me warmly. With her gray pixie haircut, bright blue eyes, and big smile it was a greeting I grew to love. "I'll be back to get you!" I'd say as I rushed inside to set up for our gathering.
Once our time was over, I knew Lee couldn't wait to get back outside, so I'd push her back to claim her spot by the front door. One day I noticed a huge pot of beautiful yellow flowers near her spot. "Oh, Lee, those are gorgeous. I've never seen them before. Do you know what they are?"
"I don't," she replied, "but I'll find out for you."
The next week the flowers were still there. Lee still didn't know what they were, but she'd found out who to ask, so together we learned that the bright, yellow blossoms we both enjoyed so much were lantana. Lee, lantana and laughter, three things that will forever go together for me. The laughter came when I tried to maneuver Lee back out through the heavy front doors and would forget from week to week that taking her over the threshold backwards was the best way to keep from dumping her out! Fortunately I never did dump her, but my awkward wheelchair piloting gave us both some laughs. And we never parted without a hug, after which she would pat my hand and say, "Thank you. I love you." And I would say, "I love you, too."
The chaplain who led Lee's memorial service did a wonderful job. We all got to share our favorite memories. I learned from her family that she hated raisins and wondered how many times I'd served her oatmeal raisin cookies in class. She never complained. The chaplain said, "Lee would want all of us leaving here today with a smile on our faces and a smile in our hearts," and I knew that was true. I also knew she was now embracing eternal life joyfully, and was with the husband and son she had lost and grieved. Still the tears spilled down my face. I wasn't crying for Lee, but for my own loss.
After the service, I decided to stop by Home Depot for a couple of things we needed for Saturday chores, in spite of being overdressed and needing to keep my sunglasses on to hide my red eyes and mascara smears. As I walked into the garden area I stopped in awe. Right before me were two very long rows of hanging baskets, all yellow lantana. I know they weren't there earlier in the season.
It didn't take me long to put two of the baskets in my cart, justifying that they could replace two that hadn't done well in the summer heat. Now I get to look at yellow lantana from my office window every day and thank the Lord for my friend, Lee. They not only remind me of her, they remind me that love is always worth the risk, even when it hurts.