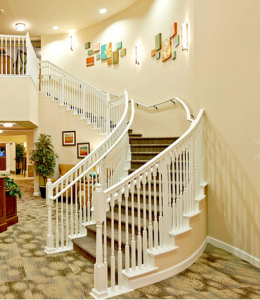 I've climbed the beautiful, spiral staircase at the assisted living community where I volunteer many times without thinking of it as the stairway to heaven. But for some reason, today as I climbed from the first floor with its lovely entryway, library and dining room, to the second floor with the activity room where we have The Hope of Glory Bible study, that's exactly what came to mind.
Maybe my long-term memory was activated by being in the presence of those older than I who cherish this intact part of their brains, and I was reminded of the prom theme we had my junior year in high school. Two by two couples lined up for the coveted prom photo. Girls in long satin dresses boasting wrist corsages leaned in to boys in brown suits sporting their father's ties. Behind each couple was the backdrop the prom committee painted on butcher paper of a long spiral staircase. Glittery letters at the top read, "Stairway to Heaven."
Of course, our idea of heaven in the Sixties was a really hot date and getting to stay out later than usual to go to the after parties, or the less sanctioned parties held on the banks of a Tennessee lake. Gratefully, it's not this temporal, somewhat carnal, concept of heaven that I show up to talk about to the assisted living residents. Rather it's the gospel truth that we won't have to climb the 21 steps I counted today to get to heaven, or even take the optional elevator! It's the message that there's only one step needed, belief in Jesus Christ as Lord and Savior.
Most of the residents at this facility, lovely as it is, are there because they need help of some kind—either due to physical impairment or loss of mental acuity. Although they don't dwell on this fact, the blessed among them realize that their next destination is heaven. Together we explore how this late season of life in which they find themselves is still life, and that God has a purpose for them as long as they have breath. Then they will enjoy eternal life with Him!
It could be because I've been to two memorial services within a week that I'm reflecting on heaven now. Both were for women who lived long, full lives, leaving behind memories of stories told, quilts made, meals served, grandchildren cherished, and husbands adored. Hearing about their lives, and their strong Christian faith shared through generations, makes every remaining minute of my life seem more valuable to me somehow—more primed with possibility. They ran their races well, leaving me with a longing to make any time I have left count for something—especially for those things that are small in the eyes of the world, but large in the eyes of heaven.
In my book, Take My Hand Again, I talk about how hard it was to say goodbye to the assisted living residents I came to love through our time in Bible study, and today I was reminded that I'm still vulnerable to that kind of heartache. And I'm not alone. I just finished the engaging book A Dog Walks into a Nursing Home by Sue Halpern, who also grew fond of the residents she took her dog, Pransky, to visit each week. The author recalls standing at a distance at the graveside service of a friend and resident named Fran because she had the lovable labradoodle with her. She stood amazed as she saw all the people who gathered to honor the woman she and Pransky had only come to know and love in her last years. They had no idea how many lives Fran's had touched, they only knew she had touched theirs.
Love hurts, but it's always worth it. And there's this stairway to heaven, where the loss and pain of aging is no more! There we will celebrate together all the love we've received, and all the love we've given away.
The Hope of Glory, A Devotional Guide for Older Adults, and Take My Hand Again, A Faith-based Guide for Helping Older Parents, are both available on Amazon.com.