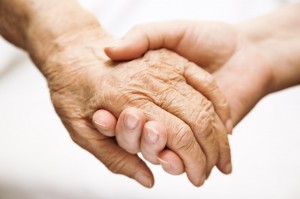 On one of my visits to Tennessee from Colorado to visit my mother at her assisted living facility, the two of us started down the hall to go to the dining room for dinner. Holding onto the railing that ran along one side of the wall with her right hand, Mom reached her left hand out to grab hold of mine. "Somehow I always feel better when you're here to hold my hand," she said, as down the hall we went.
I knew that feeling all too well. When I was a little girl and Mom took me downtown to shop for a new Easter dress or back-to-school shoes, I felt better when she held my hand as we crossed the busy street. Going up those big tall stairs into the school where I would start kindergarten, I couldn't have made it without her hand to steady me. All my life I'd found security in reaching out for her and knowing she was there for me. Now she was saying, "Take my hand again," only it was she needing the reassurance, and me being asked to find the courage and the strength to provide it.
It's not as if she was alone during the months between my visits. My two sisters were local and visited her frequently, and she was surrounded by other caregivers and friends in her facility. But Mom liked knowing all three of her "chicks" were home to roost, and so holding my hand gave her a special sense of security.
To say I was pleased to take her hand is an understatement, but most of us, if we are honest with ourselves, are reluctant to accept the role reversal it represents. We see signs of aging in our parents that startle or alarm us, but we dismiss them as momentary lapses or anomalies. After all, if we accept that we now have to be the one to make the decisions and carry the load, then we are relinquishing the security we've always found in relying on our parents to do that.
And our reluctance to accept the role reversal has nothing to do with our chronological age. Some of my friends lost their mothers at a young age and were involved in their care when they were only in their twenties or thirties. A special friend of my mom's was in his eighties when his mother passed away in a nursing home.
Regardless of how old we are when the roles reverse, we just wish things could stay the way they were a bit longer. In the midst of so much uncertainty, holding hands is never a bad choice.