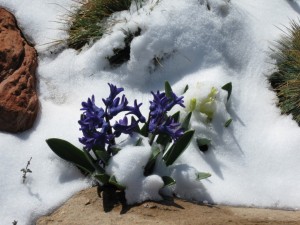 It's week two of a hacking cough and the wind is howling outside just to see if it can make more noise than I can. This is the time of year when those cruise commercials to places in the Caribbean begin to look very inviting, but alas, that's not always an option.
I wish I could be as patient about winter as my cat, Molly. She does meow at the deck door on a regular basis just because she wants to check and see if the 85 degree temperatures have magically returned. But when I slide open the door just a bit and she sees the snow and feels the wind on her face, she shakes one paw, then another, and then quickly turns to go look for the first sunbeam she can find streaming into the house. This time of year I should just follow her from room to room as she seeks out the sun. Even if I have to curl up on the floor to get my dose of Vitamin D!
But I know, much to Molly's delight and mine, spring will return in time. Even now the Master of all seasons is crafting hyacinths and crocuses under the snow, and soon we will be able to proclaim with Solomon, "The flowers appear on the earth; the time of the singing of birds is come" (Song of Songs 2:12).
Until that day arrives, there are things we can do to give birth to spring in our hearts! Even a stroll through the grocery store can provide some mid-winter relief. Today I spent an extra long time in the floral department looking at all the orchids and other exotic blooming plants—easier than going to the botanic garden! I chose a small one for our kitchen table.
In the magazine aisle I noticed spring issues are already on the stands. As I walked by I heard one woman pointing out a spread on "springtime in Ireland" to her husband. "Want to go there?" she asked. "I think we just did," he prudently replied.
The photo on my screensaver is of the last beach we visited, so when I need a break I just stare at the sand, the sea, and the gulls and try to transport myself back to that spot. Looking through gardening and bulb catalogs and imagining all those flowers blooming in my gardens provides similar relief.
A good dose of color can do much to elevate our winter moods, too.  Beat the blues by dressing in bright colors instead of the dour grays and browns we tend to wear because they suit the mood we're in…not the one we desire!
And keep the faith—spring will be here before we know it!