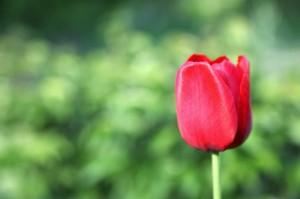 Occasionally I will post a "classic" column on this new site. Here's an Easter message from many years ago. The "little granddaughters" mentioned are now 20 and 18! Happy Easter, everyone! May you be blessed by the good news that Christ is risen indeed!     
Spring is springing up right through our new flagstone patio. I asked the workmen who put the patio in last fall to watch for bulbs as they dug, but maybe they didn't know what a dormant bulb looked like. Through sheer determination, the bulbs have forced their way through the mixture of clay and mortar holding the stones in place. We're going to have red tulips in the middle of our patio!
Their success is so remarkable that I can't be too upset about the cracks. St. Augustine wrote, "We are an Easter people and alleluia is our song!" With the resurrection message in our hearts, we want to celebrate all things new, even misplaced tulips, and this is the time of year to do it.
People even look new this time of year. Although I know God doesn't care what we wear to church on Easter Sunday, it seems to add to the celebration to see everyone all spiffed up in their best clothes. My sisters and I usually had new outfits for Easter when we were growing up. I remember the smell and the feel of the typical Easter dress. It was always stiff and "crackled" when I put it on. I also had new patent leather shoes, and white socks with lace around the top. A hat with a ribbon hanging down the back and a small purse to match completed my Easter ensemble. Just going shopping for this outfit was a treat, because I probably hadn't shopped for new clothes since before school started in the fall.
The hats the ladies wore to church fascinated me. I'm afraid I spent more time staring at them during the church service than I should have. Why didn't these ladies need a scratchy elastic under the chin to hold their hats on? My mom usually had a jaunty new bowler with a veil, most likely navy blue and white, and I thought she was the most beautiful person on earth.
Every year I still enjoy seeing little girls dressed up on Easter. One year in particular I remember admiring the angelic-looking little girls at church and at the place where we went for brunch afterwards.
Oh, well, I thought. At least my two young boys looked nice in their 3-piece polyester suits–one light blue, the other light green. Of course that was before they went outside and slid down a railroad-tie banister, getting splinters caught in the bottoms of both pairs of suit pants! I made them wear those suits until they outgrew them, but boy did they complain.
This is the time of year I get out all my bunnies to add to my year-round population of decorative rabbits around the house. It's also the time for hoping the grass turns green soon, but the aspen trees don't leaf out before the last big snowstorm. New things are happening, and I want to celebrate them all.
On Easter I'll get to see two of our little granddaughters all dressed up. I hope the tulips are in full bloom by then. I think they will love seeing them, and I'll love explaining how we can all be triumphant through difficult circumstances. That is, after all, the message of spring…the message of Easter.