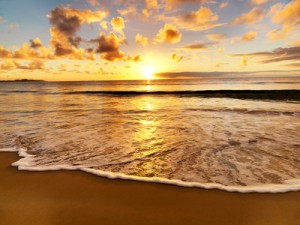 This is a classic column just as appropriate this year as the year I wrote it! Recently filed it in The Country Register, too. Come along with me!
When I put the topic for this column on a list of topics weeks ago, I expected to be nursing a sunburn as I wrote it. My husband and I were planning a midwinter beach vacation then.
Priorities being what they are, we didn't make it. Instead, I keep bumping into other people I know who've just gotten back from Mexico or Hawaii. One tan, relaxed-looking friend just returned from Tahiti!
Instead of writing about my beach bummin' days, I'm bummin' about not going to the beach. Instead of giving you an account of lazy afternoons spent stretched out on the sand, I'm stretching my imagination to take a seaside vacation to Mexico in my mind. Want to come along?
Are you packed yet? You don't need much. Put in a couple of bathing suits so you don't have to pull on a wet one the day after wearing it. Old, faded suits will do.
You need a pair of shorts and a T-shirt for each day we're there. Add a sweater or sweatshirt for cool nights in salty breezes, a long skirt or sundress for one nice dinner out, a pair of flip-flops and a pair of nicer sandals for shopping excursions, and you're ready. (Toss in some suntan lotion and block but forget about makeup…this is a vacation!)
At the airport waiting for our flight, you ask if I have my ticket. Of course! (I went back and got it after leaving it on the kitchen counter.) You looked pretty silly arriving in the snow in that straw hat, but I'll wish I had it when the sun's beating down on my head.
Comparing books in our carry-on bags as we wait to board, we realize we both brought Beach Music, so I give my copy to an anxious-looking woman next to me on the plane. One decent book and one mindless romance each is all we need—then we'll swap!
Finally we arrive! As we walk down the steps from the plane onto the tarmac I look at you and we laugh. It's like we just walked into a steam room. A breeze stirs the palm trees lining the runway and you grab your hat just in time.
After a bumpy bus ride we check into our hotel (sure, I'll take the bed by the window), change into our suits, and head for the beach. The chairs are all taken, so we stretch out a blanket on the sand and collapse. Ahhh…this is what it's all about.
You go for a dip in the ocean. I don't mean to laugh at your hopping across the hot sand—but it's funny! Soon you're back and the smell of salt water on suntan lotion fills the air. (Hey, you're getting wet sand on the blanket!) Tomorrow I'll swim, too, but today…I'm vacating.
As the sun starts to go down we pull on our T-shirts and get a couple of overly sweet drinks. We claim a couple of abandoned beach chairs and sit watching the orange sunset appear behind the rock formations out in the water. Silently we absorb the soothing sounds of the surf punctuated by the calls of the gulls as they head home for the night.
I feel better. How about you?