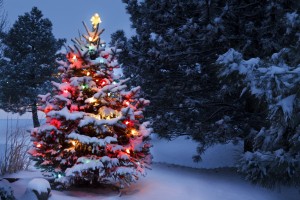 What is it about this season that has us gazing at blurry Christmas lights as we fight back tears? Or digging through our purse for a tissue as we let them flow?
There are many reasons for the feelings that fall from our eyes this time of year. Many of them joyful. My granddaughter Amanda called to tell me, with great excitement in her voice, that she's engaged! I'm truly happy for her, and at peace that her match with her fiancé Taylor is a God-ordained one, yet I cried off and on for about 24 hours. I can't explain it; I just needed to cry. For the precious little girl she once was. For the beautiful, Godly woman she's become. For the future she's been given. For love.
To stem the tide of tears, my husband took me over to the Broadmoor Hotel, a very nice resort near us, to walk around the lake and see their Christmas decorations. That helped for a while, but we also browsed a specialty kitchen shop there and I happened to pick up a jar labeled: Southern Pecan Pie in a Jar. Jim took one look at me and knew the tears were going to flow yet again. "You can't put Southern pecan pie in a jar!" I exclaimed, as a flood of memories of my mom's pecan pie, served around her dining room table in Tennessee, washed over me—along with the realization that while I have her recipe, I'll never taste her pecan pie again.
In fact, memories of loved ones who have gone before us stimulate many of the Christmas tears we shed. Last Christmas season I offered to take a dear, recently widowed woman in our church to a "remembrance service" the church held. During the service I saw her dabbing her eyes with her embroidered handkerchief and silently but foolishly gave myself a mental pat on the back for making the effort to bring her to the service. Yet afterwards, when I asked her what she thought of the experience, she said, "I think it made it worse." So much for trying to comfort her. Sometimes we just have to cry, and for a time at least, little else helps.
Yet could it also be that our senses are more alive this time of year? Everywhere we look the world is aglow. Bright lights adorn church sanctuaries and gas stations alike. People are kinder. Faces of loved ones are dearer. Life is sweeter. It's all just enough to make a grown woman cry. And the music! We can't forget the music. Last Sunday our worship pastor invited a cellist to play with our praise band. The melodies of familiar carols never seemed so rich and uplifting, nor the words so meaningful. There I was, digging in my purse for that last tissue I knew was there some place.
"There is a sacredness in tears," writes Washington Irving. "They are not the mark of weakness, but of power. They speak more eloquently than ten thousand tongues. They are the messengers of overwhelming grief, of deep contrition, and of unspeakable love."
It's the unspeakable love that has my Christmas tears flowing this year. Love for family. Love for friends. And the love that came down on Christmas. The love we read of in John 3:16: For God so loved the world that he gave his one and only Son, that whoever believes in him should not perish, but have eternal life. Unspeakable love indeed.
If you're also feeling weepy this Christmas, let's just watch Hallmark movies until we can't cry another tear. Let the feelings flow into a sea of unspeakable love. Then our hearts and minds will be cleansed and ready for the New Year. Tissue, anyone?