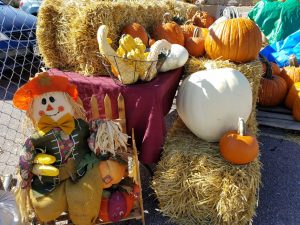 What is it about the first crisp morning of fall that brings a rush of nostalgia—especially to those of us with more than a few decades behind us?
Of course so many of our memories are back-to-school ones. Even before the temperature begins to change, several of the stores I frequent set out their offerings of school supplies. I blame back-to-school memories for the fact that I'm a glutton for the smell of new pencils and colored markers, the feel of fresh notebook paper, and the aisles of all things "back-to-schoolish." I have to stay away from such displays because one year I bought a purple binder I didn't need, well—just because it was purple!
Yes, the memories in the back-to-school category are plentiful indeed. I remember wearing a new plaid dress to the first day of school each year—the only new outfit I would have until Easter. I wore my hair in a ponytail throughout elementary school, but my mom would always take me to get my bangs permed before school started. I would show up looking like I had a Brillo® pad glued to my forehead! My school photos prove it.
But fall nostalgia doesn't stop there. At any age autumn makes us think of cozy sweaters, warm socks, hot chocolate in front of a fire, and front porches decorated with an array of brightly colored pumpkins and other gourds, corn, and mums. It's the time of year when we may go for a walk in an old jacket just for the joy of hearing the leaves crunch under our feet. Having an old dog as a companion completes the experience.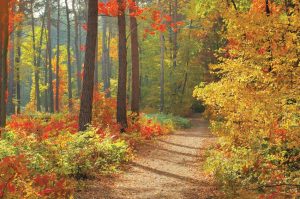 I grew up in Tennessee, so my memories of fall drives through Pigeon Forge and Gatlinburg to the Great Smoky Mountains through the years are replete with recollections of the fall displays on every corner. No cornstalk or scarecrow goes unappreciated in that part of the country in the fall!
And of course fall means the return of football, as my husband is so quick to point out. For him, the nostalgia centers around two-a-day practices and the year he was a high school running back playing for the state championship! Ah, the glory days. When he sees the football team practicing early in the morning on the dew-covered field at the high school near our house, it all comes back to him.
My teenage football memories center around cheering at high school games, but that little girl with the curly bangs remembers watching her parents go off to University of Tennessee football games on September Saturdays. My mom always wore a wool suit (no matter how warm the temperature on game day), heels, and a bright orange mum corsage. I was sure she'd be the prettiest fan there!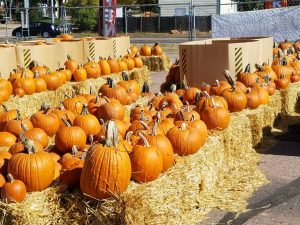 For many farm families, fall brings more than a harvest of memories. It brings the actual harvest of the last of the crops and the joy of sharing the bounty with friends and family—or getting it to market. It's also a time to cut and bale the hay, storing it in the barn for winter. As a girl, I loved throwing my school books down as soon as I got home on warm fall days, running to the barn to jump on my horse, Dolly, and riding through the freshly mown fields near our house. The smell of hay still transports me there in an instant.
What about you? What memories of fall do you treasure? Savor the nostalgia this year. Let it seep into your soul like a bowl of steamy oatmeal on a frosty morning.
Welcome, fall! We've missed you.