The scarier the world gets the more mundane my blog posts seem to become. Cats, books, pumpkins…it seems in an attempt to diffuse the scariness nothing is too commonplace to become the topic for a blog these days! Given that, and how scary and sad the world has been this month, today's subject is the apple. That's right, that red orb that bounced around in your metal lunchbox in third grade. Let it bounce you to a saner, happier time!
Of course the apple is much maligned as the forbidden fruit that Eve ate and gave to Adam in the Garden of Eden, but this is only because artists have depicted the fruit as an apple. The Bible never says what kind of fruit it was. It could have been a kumquat for all we know. (Isn't kumquat a funny word? I always wanted to use it in a sentence. Now I can check that off my bucket list. Writers have weird bucket lists.)
Apples are mentioned in the Bible however. In Proverbs, the collection of the wise teachings of Solomon and others, we find, "A word aptly spoken is like apples of gold in settings of silver (Proverbs 25:11)." There's some wisdom there alright. We should peel away at that teaching until we get to the core of it. If only we limited our conversations, our texts, and our tweets to words aptly spoken. Not apple-y, but aptly, meaning suitably or appropriately. The world would be a better place already.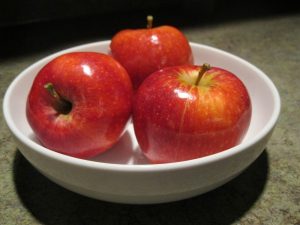 Fall is apple season, and any grocery store shopper can go cross-eyed trying to decide between the Red Delicious, Gala, McIntosh, Granny Smith, Golden Delicious, Fuji, Honeycrisp and more. Gourmet cooks know which apple works best in which apple dish, but I just pick shiny ones that look fresh and have the fewest worm holes. Biting into a worm isn't how we like to get our protein!
Those fortunate enough to live close to an orchard that hosts an apple festival may be able to pick your own bushel then get busy making apple butter, apple pie, apple cake, apple tarts, applesauce, apple fritters, apple crisp and the ever popular apple cider—now offered in upscale bars as well. How well I remember such an apple picking adventure with my son and his family at an orchard in Virginia. It included a cold but fun hayride!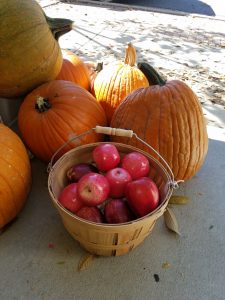 So have I succeeded in getting you to forget about this morning's news and dwell instead on the joy of biting into an apple with all its crunchy sweetness? There is joy to be found in all the ordinary things of life. And hope as well. Martin Luther wrote, "Even if I knew that tomorrow the world would go to pieces, I would still plant my apple tree."
Pick up an apple and praise God for making it just for you. Even in a piece of ordinary fruit we can find joy and hope if we give God the glory. "Taste and see that the Lord is good; blessed is the one who takes refuge in him (Psalm 34:8)."