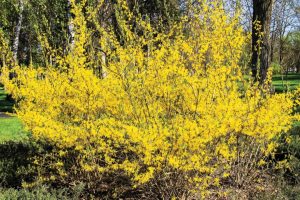 As we dig out from a blizzard here in Colorado I'm longing for the early signs of Spring I remember as a child. Each year in late February or early March my dad would come into the kitchen of our Tennessee home carrying long branches he had cut off the forsythia bush in our side yard. To my sisters and me the branches looked just as lifeless as all the others on the trees and bushes outside, but Dad placed them in a vase of warm water on the windowsill.
The next day, we would marvel at the tiny buds beginning to appear. Within three days the branches would be alive with radiant yellow flowers! Although it might still be gray and gloomy outside, we had a burst of sunshine in our kitchen window, and a promise that Spring was on the way.
How can we bring that kind of springtime into the hearts and lives of people we know? We can do it literally, by forcing bulbs and delivering a basket of blooming tulips or hyacinths to a friend having a long winter of the soul. Or by planning a visit to a botanic garden where she can breathe in the sights and smells of a green spring long before it's in full bloom in her neighborhood.
We can also bring springtime feelings into the souls of others, especially older adults, by helping them remember times in their childhood that were carefree and happy, or by listening patiently as they share fond memories of loved ones lost and days gone by.
Or maybe it's the more permanent message of springtime renewal that we hope to deliver, one that will have long-lasting, even eternal effects. Martin Luther wrote, "Our Lord has written the promise of the Resurrection not in books alone, but in every leaf of springtime."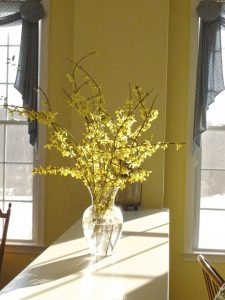 Let the crocuses pushing their way through the late snows, followed by the tulips standing tall and the trees covered in bright green leaves, be the signs we need to remind us that Easter is coming! Easter, the day where believers everywhere celebrate the truth of John 3:16: "For God so loved the world that he gave his one and only son, that whoever believes in him shall not perish but have eternal life."
So if, like the yellow forsythia, you deliver a burst of springtime to someone this year, consider adding a message of eternal hope. Remind them that Easter is coming! It could be just the encouragement they need.