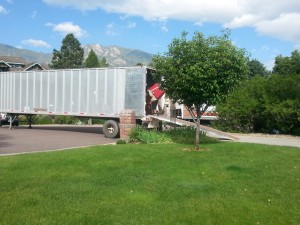 It really happened. A large moving van arrived at our house the middle of June and the men loaded up what was left of our belongings after the two-day garage sale, the bulging boxes shipped to family members, and the donations. Then they took it all away. We moved.
My guess is, you know what it was like in the days leading up to the move. You weren't there, but you've been there. You, too, know the sound of packing tape being pulled off the roll (and the aggravating attempt to find the end of the tape again), the desperation to grab hold of anything even slightly resembling a box, and the last-minute scrawling of "miscellaneous" on the last boxes of stuff that didn't get packed anywhere else. (Turns out those are the boxes holding most of what you're looking for after the move!)
Moving out of a house we'd been in for 26 years was a bit unsettling and emotional for us, but we knew there was a plan and we were excited to downsize and begin what we happily referred to as Act 3. Our cats, Molly and Beau, didn't have the same level of reasoning and understanding, however.
The day of the move they were cloistered in an empty back bedroom with food, water, and litter. When we let them out at the end of the day, they slowly explored the completely empty house. We could only imagine what they mewed to one another.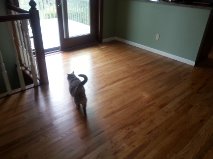 "Well this is definitely NOT an improvement. What were they thinking? I'll just jump up on the…the couch is missing!! Oh well, I'll just hop on the…the kitchen table is gone!! How are we expected to live like this?"
Retrospectively it may not have been the best idea, but we decided to leave the cats alone in the empty house that night since we didn't have to turn it over to the new owners for a few days. We wanted to get ourselves situated at The Residence Inn, where we would all live for 10 days, before bringing them over. Other than food, water, and litter, all they had was a sundry assortment of toy mice and jingly balls that turned up behind the furniture that was moved. Happy to see their lost toys, they would still have preferred a stuffed chair or a bed with a down comforter.
The next day they were most cooperative about being put into their cat carriers, however. My husband thinks they may have thought they had been left behind permanently and were relieved we came to get them. If so, that may explain how easily they adapted to life in a one-bedroom apartment at The Residence Inn.
"What do you think happened?" Molly may have asked Beau.
"I don't know. Obviously they've had some sort of financial downturn," Beau may have conjectured.
"Well, at least they kept us. We'd best just hunker down and make the most of it," Molly may have concluded.
Whatever they were thinking, it's true that there is bonding in adversity. The cat fights have drastically reduced since the whole moving experience began!
TO BE CONTINUED