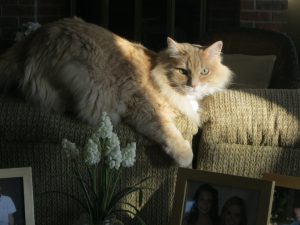 He had me at hello. From the moment I took him out of the cage at the adoption center at PetSmart and he wrapped his front paws around my neck and snuggled his head under my chin, I knew he was my cat. What I didn't know was that he was a one-woman cat, and I would be his woman.
At PetSmart his name was Jellybean, but that just didn't seem to fit. I had gone cat shopping because I read an article that a solo cat might become depressed. I'd looked over at our cat, Molly, and assessed she was. What she needed was a beau! So Jellybean became Beau Brummett.
As it turned out, the two cats never really bonded, and truth be told, Beau bullied Molly a bit. But for 13 years they enjoyed one another's company from a distance, established their own rules about whose couch was whose, and had a workable détente.
We had to let go of Beau three weeks ago, and I'm just now able to write about him. It's been a heartbreaking loss, not just because I loved him, but because he loved me so completely and so unconditionally, and there was nothing I could do to save him. The third round of cancer was too much for all of us. He was only fourteen and a half so it seemed too soon to see him go, yet it was time.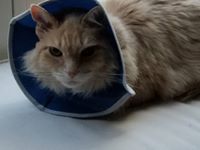 This won't be one of those tributes touting perfection, however. Beau's biggest character flaw was that he was afraid of small children, possibly the victim of being carried around in a neck hold by a toddler before we adopted him. As a result, he was labeled "the mean cat" by all of our grandkids because if he couldn't avoid them, he hissed at them. I know their parents wondered why we kept him around.
We did because of who he was the rest of time. Part Maine Coon, Beau came when called, was trainable, and loyal beyond description. He was the most excellent of cats in terms of his cat-like characteristics.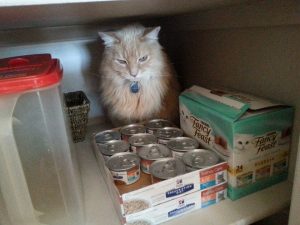 Curious to a fault, he got shut up in the pantry more than once while checking out the supply of cat food. He would be the first to jump into an empty box and found Christmas boxes especially fascinating.
And he was a quick learner. Just one leap off the second-story deck in an attempt to catch a hummingbird and he decided not to do that again!
He was the most affectionate animal I've ever been around. Often he would come up to me and put his front paws on my legs, look up at me with those big golden eyes, and want me to pick him up. I was putty in his paws, so most of the time when I was home he was in my arms, perched over my shoulder, or on my lap—even when I was at the computer.
We had two official snuggle times, right before my husband Jim and I went to sleep and first thing in the morning. He never missed one of them, and usually waited in the hallway from about 9:30 PM on to remind me it was time to go snuggle. Any wonder my arms have felt achingly empty? (Jim reminds me that he is willing to snuggle any time, but apologizes for not being fuzzy enough!)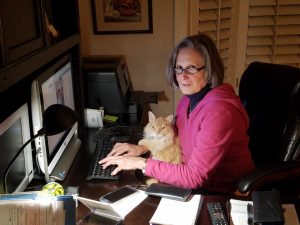 I don't know what else to say. I miss him. It hurts. I've always been sensitive to the grief people feel when losing a pet, but will be even more so now. I don't want to compare this in any way to the deeper grief of losing a family member or close friend, but I did lose a close and loving companion. No doubt about it.
I've cried my way through three PetSmarts and the Humane Society where I went just to visit the cats. I don't know why. There isn't a cat alive who could replace Beau, and I know that. Besides it's too soon to even try to love another cat. Somehow I just had to look.
And while Molly won't snuggle (please! she just can't be bothered) her "personal assistant" purr-sonality has her following me all over the house, and she is blossoming now that the whole house is hers. We love her, too, and she deserves to be queen for a while.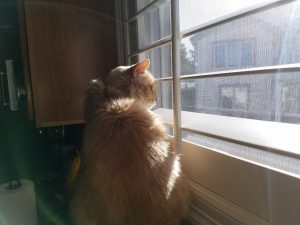 When I was praying over Beau for healing, and yes I did, I heard the Lord remind me, "The Lord gives and the Lord takes away. Blessed be the name of the Lord." To comfort me in my grief, He's whispered, "Think of what a great gift he was to you, not what a great loss you feel now." OK, Lord, I'll try. But he was my buddy. My Beau.
To those readers who think they don't like cats, may I say it's just like any other bias. Get to know just one well, and you will change your opinion.