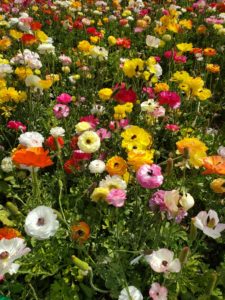 One can grow very weary waiting for spring to bloom in Colorado, so imagine my delight when we visited The Flower Fields in Carlsbad, California, during peak season. We went to California the end of April to meet up with friends and celebrate my husband Jim's 75th birthday, but strolling through fields of flowers while there was certainly a highlight.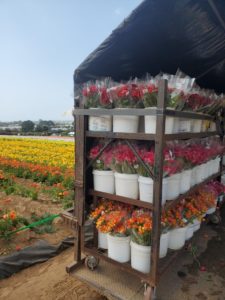 The 50 acres at Carlsbad Ranch are dedicated to growing 13 colors of Ranunculus flowers (in the buttercup family) both to sell and for the production of bulbs. According to the website, "The fields today are a direct result of nearly 85 years of floral cultivation that began with Luther Gage, an early settler and horticulturist that settled in the area in the early 1920's. Mr. Gage brought Ranunculus seeds to the area and began growing them in his fields next to Frank Frazee's small vegetable farm in South Oceanside. In 1933 Frank Frazee also started growing Ranunculus and introduced his son Edwin to the art of seeding, cultivating and irrigating the pretty but not yet popular flower."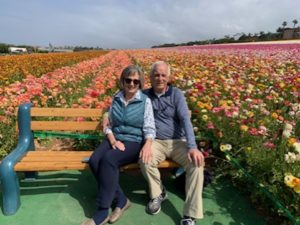 What today's visitors see from March through mid-May is a legacy of beauty for sure. In addition to the Ranunculus fields, specialty and artistic gardens with a variety of flowers grace the property. A desirable event venue for weddings and other events, the property also includes a pavilion, a demonstration garden, a sweet pea maze, and fun activities for kids on school field trips.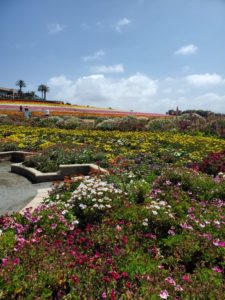 We got to listen in as a performer delighted a group of kindergartners with his catchy song, "Dirt Made My Lunch." Such a fun way to learn about agriculture!
Of course there's also an extensive garden center on the property and an irresistible gift shop. I guess hope truly does spring eternal, because I bought a package of Ranunculus bulbs to try in my backyard garden. The master gardener there assured me they would do just fine in Colorado. Mmmhmm.
Whether my bulbs bloom, I'm sure to be California dreamin' about The Flower Fields for some time. So glad I can say, "Been there. Got the T-shirt!"