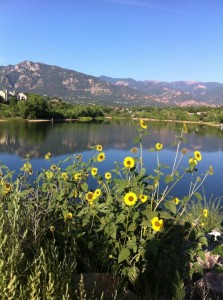 Each week I have the pleasure of walking around this lake with two good friends. Recently our vistas have been brightened by the appearance of wild Black-eyed Susans. I haven't been in Israel when the wild lilies of the field are in bloom, but I can't imagine they could be more beautiful than this, our Colorado version.
When those yellow faces start appearing in August, I'm always reminded of August, 1977, when I first moved to Colorado. We lived just to the right of this lake, but none of the area behind the lake was developed then so there were open fields near our house. I took a whole roll of film (remember film?) of my two boys and our golden retriever running through the Black-eyed Susans in those fields.
Of course, I also thought we were all going to die in Colorado that August, because, coming from Tennessee, I didn't know about the way the wind swept across the plains. One day the wind was blowing so hard that it was lifting my drapes straight out and off the hooks. I closed all the windows to keep the wind out, but it was hot and we didn't have air-conditioning. That's when I was just sure we were all going to suffocate! But I've adapted well to the creative Colorado weather in 36 years, and would miss it if I lived anywhere else.
The appearance of the Black-eyed Susans also always reminds me of Jesus' teaching on simplifying life. In Matthew 6:28-29 (KJV) we read His words: "Consider the lilies of the field, how they grow; they toil not, neither do they spin: And yet I say unto you, That even Solomon in all his glory was not arrayed like one of these." I love this so much I used it as the theme verse for a chapter titled "Simply Consider" in the book I wrote about my own simplification journey, Simply the Savior.
When our hearts yearn for a simpler way of life than the one the world seems to demand that we live, there is perhaps no better way for us to begin the simplification process than to consider the lilies. Author and theologian Richard J. Foster, in his book Freedom of Simplicity, refers to Matthew 6 as "the most radiant passage on Christian simplicity in all the Bible." It's impossible to overstate the effect that taking these verses in Matthew's Gospel to heart can have on our ability to simplify our lives.
If we simply consider the lilies, suddenly we feel the pressure to attain and achieve being lifted from our shoulders and our hearts. If they don't toil and spin, why should we? It's easier to draw lines through many of the tasks on our to-do lists after we consider the lilies. And it's easier to exchange worrying for trusting.
So simply consider the lilies. And if you live in Colorado, get out and walk among them!