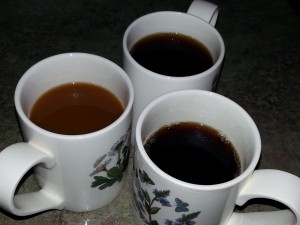 I realize this blog post may guarantee my listing on the "greatest geezers of all time" list, but write it I must.
Has anyone else noticed that progress isn't always, well…progressive? Just because something is new on the market doesn't necessarily make it better or more useful than something that has existed for a long time.
Case in point, the new one-cup-at-a-time drip coffee makers. I've been to several gatherings in the past year where 10 or more people are offered coffee and have to queue up to select a choice. Then they wait for the coffee maker to very slowly make their individual cups of coffee. By the time the tenth person in line gets some java, the first three people are ready for seconds. Heaven forbid there is anything else on the agenda for the gathering, because getting everyone a cup of coffee will pretty much take up all the time. And, if I may be so bold to proclaim, no matter which variety you select it ends up tasting like the instant coffee my mother made when she ran out of the real kind.
Have we forgotten the convenience of a coffee maker that makes a whole pot of coffee at once? Not only can you brew as few or as many cups as you need, you can pour exactly as much as you want into each cup. When you want a second cup, guess what? It's already brewed, and the coffee maker has kept it warm for you in the meantime. Brilliant, no?
Next category: iron-clad cookware. Like many couples, my husband and I succumbed to pressure from the younger generation to get rid of a perfectly good set of pots and pans and go for the much heavier iron-clad variety. Not only did I have trouble lifting a full pot off the stove, I couldn't understand how it was progressive to have cookware that you couldn't give a good scrubbing, and couldn't put in the dishwasher! We gave them away, and I bought a wonderful, lightweight set of stainless steel pots and pans. You can scrub as hard as you want, they all go in the dishwasher, and I can actually pour soup out of the pan without having to grasp the handle with both hands, bend my knees, and count to three before lifting.
One last thing and I will have "geezed" enough for today. I'm not yearning for the friendly grocer who would call all your kids by name, load cans and a bag of flour into a cardboard box, and carry it out to your car (well, maybe I am), but I do appreciate and respect grocery store checkers. I feel that the prices I pay for the items I purchase in a grocery store are set to cover the salaries of these well-trained, competent employees. Not only do I "check out" with my favorite checkers, but "checking in" with them on a periodic basis is a social interaction I enjoy.
So why would I want to self-check my groceries? I'm not good at it, and it's obvious the machine doesn't like me any more than I like it. Never once has it asked me about my day or laughed at my jokes. Instead it makes rude comments like, "Strange item in bagging area." Human checkers are better. After all, God made them, and you just can't improve on His work!