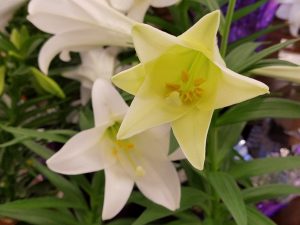 One of my favorite quotes is from St. Augustine and reads, "We are an Easter people and alleluia is our song!" I love it because it speaks not only to the joy we can have when celebrating Resurrection Sunday, but also to the abundant life that those who believe in the risen Lord can have all year long.
We are an Easter people when we count our blessings and realize we can never get to the end of the list. Alleluia!
We are an Easter people when we gather together and praise the Lord. Alleluia!
We are an Easter people when we open God's Word to see what encouragement, correction or advice He has for us each day. So we lift up our alleluias before we intervene in prayer for people we love.
We are also an Easter people when we get bad news about a friend or loved one's diagnosis, or a scary report from our own doctor. Even through our fears we can sing alleluia because of Jesus' promise in John 16:33: "In this world you will have trouble. But take heart! I have overcome the world."
We are an Easter people when we grieve. A parent, spouse, sibling, or child dies, and we wonder how we will get through the next few days and the rest of our lives. How will we even be able to speak at the memorial service if that is required of us? Then we remember the Lord promised in 2 Corinthians 12:9, "My grace is sufficient for you, for my power is made perfect in weakness." We experience that grace descending upon us to comfort us, strengthen us, and be the wind beneath our wings. And so somehow we still sing alleluia—even with a lump in our throats.
Yes, Easter people grieve, but not like those who have no hope because we have the promise of eternal life. Jesus said in John 11:25, "I am the resurrection and the life. He who believes in me will live, even though he dies; and whoever lives and believes in me will never die." Alleluia indeed!
If you aren't yet one of the Easter people, could this be the Easter that you explore who Jesus is and become one? It's so easy. Simply believe that Jesus is the Son of God, acknowledge that you are a sinner in need of a Savior (as are we all), and ask the risen Lord to forgive you and come into your heart. When you do, the indwelling of the Holy Spirit will be yours immediately, and a permanent song of alleluia will begin to echo in your soul.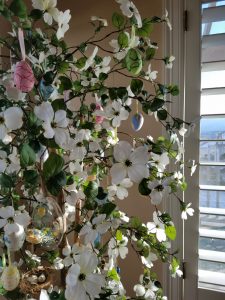 As C.S. Lewis said, Jesus is either a liar, a lunatic, or Lord. (Jesus didn't leave the "good guy" option open to us.) If this is the first Easter you proclaim him Lord, it will be a wonderful celebration for you here—and the angels will celebrate in heaven, too!
"A Christian should be an alleluia from head to foot," St. Augustine also said. Christians don't get everything right. We need forgiveness as much as anyone. And grace. And mercy. But no matter what, "We are an Easter people, and alleluia is our song!"