Those caring for older adults would be wise to remember the power and comfort of lifelong friendships, and to do all they can to help the elders they love sustain their key friendships, whether in reality or just in memory.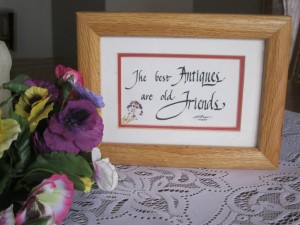 "The Best Antiques are Old Friends," reads a popular friendship saying. Whenever I see that motto stitched on a sampler or framed in a gift shop, I think of my mother-in-law, Mary Frances, and the friendship she shared for almost 70 years with Dorothea and Dorothea's sister Jim (a nickname that stuck). All three of them are gone now, but while they were still alive I had a chance to ask them how they became such good, lifelong friends.
"We met at the streetcar stop on Pearl Street in Denver when I was sixteen," Mary Frances remembered. "I lived in one apartment building and Dorothea and Jim lived in the one next door."
"I saw her standing at the stop from my second story window," Dorothea remembered. "I knew she went to our school, so I decided Jim and I should go down and talk to her." The three were inseparable from that day on.
"One time we rode the streetcar together to a band concert at the park, but I couldn't even tell you who was playing," Dorothea said. "We talked a blue streak that night, and I guess we just never stopped."
One summer my husband and I took Mary Frances to Las Vegas, New Mexico, to Jim's 80th birthday party. Although she was the youngest of the three friends, Alzheimer's was slowly robbing Jim of their shared memories. Through tear-filled eyes we watched Mary Frances and Jim embrace. Dorothea was there too, oxygen tank and all.
"If we live to be 103, we'll still be best friends you and me," reads another friendship quote. Given the power of friendship to sustain us, it's no wonder a strong friendship can even outlast the death of one of the friends.
Help older adults you know stay in touch with their friends who are still living, even if it has to be a long-distance phone call rather than a visit over a cup of coffee. When you visit, ask them about good friends they have lost. How did they meet? What did they like about one another? What would they change if they could? What do they miss the most about their friend?
The gift of friendship is too precious to discard along with all the other losses that can accompany growing older. Embrace it, and encourage it in the elders you know and love.