I started writing my weekly "Back Porch Break" lifestyle column for the Gazette and the Pueblo Chieftain in the summer of 1995. Preparing to write about turning 70 recently, I began by looking back at past columns about growing older. I found three.
The first was a column titled "Anti-Aging Devices," written as I turned 48, because in it I confessed I'd started reading the miracle ads about how to reverse aging in the back of magazines! I even wrote that I found saying "four dozen years" preferable to that "late fortyish number" because it didn't sound as bad. I rationalized, "four dozen cupcakes would be gone fast at a Cub Scout meeting…a street breakfast with only four dozen eggs wouldn't last till sunrise…and four dozen roses wouldn't cover the wheel of a Tournament of Roses float…so four dozen years doesn't seem too many." How I wish I could go back and tell my 48-year-old self, "Honey, you don't know anything about aging yet. Quit your whining!"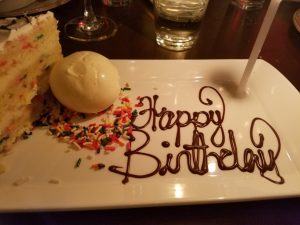 Then there was a column I wrote on "Turning 50." Just two years later I'd gotten a more positive spin on the inevitable progression of time. "Fifty means freedom," I wrote, quoting my then 82-year-old mom. "Free to believe what I believe. Free to spend time with people I cherish. Free to write what I want to write. Free to say what I know to be true, without apology." Well, wasn't I just the enlightened one? Fifty, huh?
Eventually the column became a blog and so "The 60th Birthday Train" appeared on my website. Re-reading this column now makes me sad and I apologize 10 years later to anyone who found it depressing! You see, I turned 60 just after my mother-in-law passed away, and my heart and spirit weren't ready to party. I thought I'd said so clearly, but well-meaning friends and family insisted, and so I went through a series of thoughtful gatherings with a forced smile on my face.
The analogy that came to mind was that I was on a train looking out the window at stations passing by in a blur. I wrote, "At one station I saw my sister and her husband arriving from Tennessee…further down the track, four dear friends stood around a round table and lifted champagne glasses in a toast…at another stop a caring husband stood bearing a bouquet of orange tulips…yet remembered by a heart that grieves it's all a blur."
I wrapped up this amazingly uplifting column with the statement, "The one thing that forces the passenger train of life to come to a screeching halt is death." No kidding, I wrote that! But then I got my chin off the floor to conclude, "We continue traveling toward whatever station comes next…and each station is a gift. Each age achieved is a privilege. And having people who love us enough to help us celebrate those truths, even when we don't feel like celebrating, is God's loving provision for us. On that, I'm not blurry at all." Nice save, sister, I'd tell my 60-year-old self.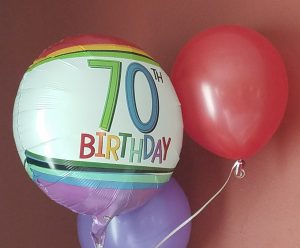 So now what? The train kept chugging and I'm still here at seventy. I'm not going to write about growing old this decade, however, because I know my friends in their eighties and nineties would say, "Seventy? That's nothing, sweetie! Get out and enjoy life. These are the good years."
How does it feel to be seventy? Mostly good, yet I find myself in a love-hate relationship with the word "still." More frequently than ever I hear, "You're still a nice looking woman…for your age." Or, "You still don't dye your hair, do you?" Or, "You still exercise? Good for you." How long will it be before someone says, "Oh, you're still driving?" Or, "How nice you still have your own teeth." I don't like those uses of the word still.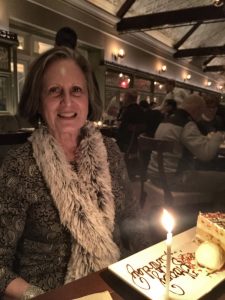 Yet I love the word still when I consider that I'm still pretty healthy, still in love with my husband of almost 30 years, still privileged to spend time with precious adult kids and grandkids, still blessed beyond all I could imagine. Added to that, I'm still a daughter of the King, still forgiven for all my sins—past, present and future—and still heaven bound!
As I look over my 70 years, the failures and successes, the joys and the sorrows, I'm still so very grateful to God for granting me this life. And I'm glad I'm still here at seventy.