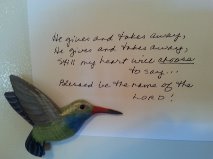 In every move there is the physical side and the emotional side. Physically you are dealing with the logistics of the packers, the movers, the storage locker, what can't be packed, where to put houseplants, pet relocation, etc. Even in a local move, the "to do" lists can be extensive.
Then there is all the emotional baggage. We prepared for the move we made in June out of a house we'd been in for 26 years for the better part of two years. All the fixing up and spiffing up that precedes a move had taken a toll on our personal time and our checkbook. We were ready.
Still, I expected the departure to be wrenching. Every place I looked in that house another memory would wash over me. (Imagine my consolation in knowing that those memories are still with me now although the house is not.)
I'll never forget seeing our oldest granddaughter Francesca climbing up the steps from downstairs by herself for the first time. Her dark hair was in two ponytails that stuck out on either side of her head. She wore a red sweater with a black Scotty dog on it. As she climbed each step she was saying, "Juice! O's!" letting me know it was time for breakfast.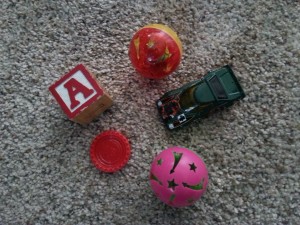 Similar memories of visits from all 12 of our grandkids are permanently with us wherever we go. We shipped the stones with their handprints to their parents before the move, but we'll never be without their impressions on our hearts. And in their hearts, they have so many memories of "Papa and Grancy's house." A collection of finds from the family room provided a history of those visits. Behind the bookcase that was too heavy to move for cleaning was one blue Barbie shoe, a marble, an orange plastic Easter egg, some cat toys, a green Hot Wheels car, a wooden block, and one red checker. Oh the fun we had!
And then there were all the gatherings that occurred under that roof! Graduation parties, engagement parties, showers, Bible studies, holiday meals with departed moms, dinner parties with friends…and on and on. God blessed us richly when He provided that home to us and our blended family.
How, I wondered, would I be able to say good-bye not only to the memories, but to the everyday joys I experienced there, especially in the last 20 years when I've been working from home and such a part of daily life in that house? I was saying goodbye to the deer who greeted me most every morning, the hummingbirds, the rainbows from the deck, the gardens I nurtured and cared for year after year. I was saying good-bye to the pink sunrise reflections on Cheyenne Mountain, and to neighbors we'd known for so long. It just seemed like too much good-bye. More than I could face.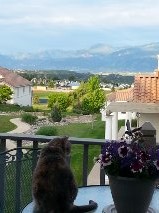 But the Lord knew that. That's why He showed us the new house He picked out for us just as we were ready to give up and look for an apartment to rent. We were energized by the discovery of the new house as we patched nail holes and cleaned at the old one. Amazingly, although there had been tears at unexpected times in the preceding weeks, when it was time to get into the car and drive away for the last time, I didn't cry. Instead there was just a sense of blessing and relief flowing over my husband and me. The words from a favorite praise song came to mind and made their way to the refrigerator at the new house, where a month later even the cats feel right at home: He gives and takes away. He gives and takes away. Still my heart will choose to say, blessed be the name of the Lord.