This is how God showed his love among us: he sent his one and only Son into the world that we might live through him.—1 John 4:9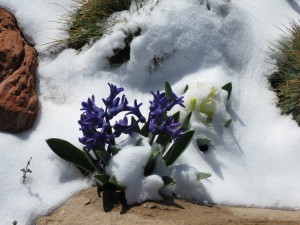 How astounding it is that the good news of Easter is not just to bring us comfort when someone we love dies, or when we ourselves are preparing to pass over into eternity in heaven. The good news of Easter is that once we believe in Jesus Christ we are already living an eternal life—right here on earth.
If we really grasped this truth, wouldn't it completely transform the way we live out each and every day? When a friend disappointed us when we needed her most, we'd be able to forgive her much more quickly with an eternal perspective. When we felt our bones creaking as we got out of bed, we'd think of those creaks as the normal shortcomings of temporary housing—not part of our eternal state of being.
I once read a touching account of a family learning to live without the daily presence of their husband and father who died while serving with the U.S. Army in Iraq. The soldier's four-year-old son repeatedly heard, over the period of a few days, that his dad was now in heaven. Finally he asked the only logical question: "Then why don't we just go there and pick him up?"
Unfortunately it's not that easy to physically span the distance between our earthly existence and our eternal home, but we can find great comfort in accepting the truth that we live one life in Christ—whether here or there, we are alive because He died on the cross for us, and rose again from the dead on Easter morning.
Paul wrote in Romans 5:1-2: Therefore, since we have been justified through faith, we have peace with God through our Lord Jesus Christ, through whom we have gained access by faith into this grace in which we now stand. What comfort in knowing we are NOW standing in God's grace, right in the middle of His will for our lives. No longer separated from God by our sin, we are forgiven through Christ's death on the cross for us.
On Easter Sunday when we sing our favorite hymns and glory in the truth of the good news of Easter, may we also pledge anew to live every day of the coming year as people who are already living an eternal life. Let's say along with St. Augustine, "We are an Easter people, and alleluia is our song!" Happy Easter!
Excerpted from THE HOPE OF GLORY lesson on "Easter Joy." So blessed to share it with 7 assisted living residents this week. We raised the roof of the assisted living facility singing "He Lives!"