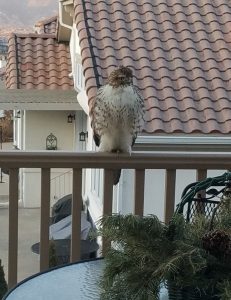 It's been fun to receive suggestions on Facebook from friends trying to help me identify this majestic bird of prey that visited me early last Tuesday morning. Best guesses are that he is a young Cooper's Hawk or a Red Tail Hawk, but one friend suggested clearly he was a falcon who flew over from the Air Force Academy nearby (Go Falcons!) Some bird-minded friends even turned to their guide books and posted photos to substantiate their guesses. I am still not sure exactly what species of bird he is, but I know he is magnificent—and that he brought me a message.
I have a real-life, not Facebook, friend who believes that whenever she sees a bird of prey soaring overhead or perched in a tree nearby it's bringing her a message from God. I guess I thought of this as just a harmless, sweet sentiment that I indulged until it happened to me in 2008. It was soon after my mother passed away and I was driving to the San Luis Valley to visit family. "Lord," I prayed, "I trust my mom is with you, but I miss her so much. I just wish you could send me a sign that all is well with her."
I was listening to Alan Jackson's CD of his mom's favorite hymns at top volume as I drove. Just as I reached the crest of La Veta Pass, "I'll Fly Away" came on—the song we sang at my mother's graveside. I looked to my right, and a hawk seemed to have caught the draft of my car and was gliding right beside me for what seemed to be 10 seconds or more. As I looked at him he turned his head to look at me through the passenger side window. I had my sign.
And then there was last week. I had just finished my quiet time that morning with a time of prayer that concluded with an earnest request for God's help. I opened my eyes, lifted my head, looked out onto our deck, and there this remarkable bird sat, turning his head almost upside down quizzically as he gazed back at me.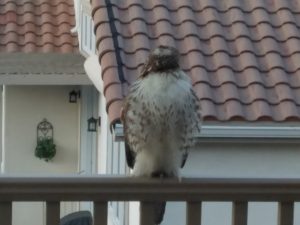 You see, I've been working for months on completing volume two of my devotional guide for seniors, The Hope of Glory. I write one lesson a week and take it to class with a group of ladies in assisted living on Wednesday morning. The ladies help me tweak the lesson and the interactive questions included. In this way each lesson is "field tested" before final inclusion in the book.
Like many self-directed writers, I work best with a writing schedule. I only have 15 of the 57 lessons needed for the book left to go, so my plan was to fill out the schedule with all the remaining topics as my blueprint for finishing the job—but I couldn't come up with any. I was stymied. So in my prayer time I asked God, the Creator of all, to please give me His ideas on what I should be writing about, and by the way, to please help me finish the lesson I was working on for the next day, appropriately titled "God is Enough."
God did help me finish the lesson last week, but none too soon. I told myself that if I wasn't happy with it by 8:15 the next morning, the time I needed to hop in the shower in order to get to class on time, I would just use a lesson from the first book instead. I successfully wrapped it up at 8:14. God loves to have fun with deadlines!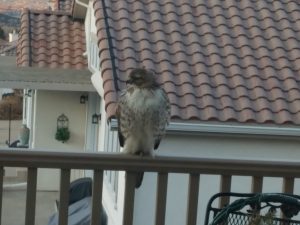 It was after class that day that I began to realize that my bird of prey had really been a bird of "pray!" I was sitting at a stoplight on my way home, thinking about nothing in particular, when I clearly heard the message deep in my spirit: "Fan the Flame." That brought to mind a verse in 2 Timothy 1:6-7—For this reason I remind you to fan into flame the gift of God, which is in you through the laying on of my hands. For God did not give us a spirit of timidity, but a spirit of power, of love and of self-discipline. I knew I had the topic for the next lesson.
To be very clear, I worship the Creator, not Creation, but I do believe He can use His creation to speak to us. The bird, the writing schedule, the lesson for that day, the new topic suggestion, suddenly I was able to connect them all into one strong message. God was letting me know, "Yes, I am going to help you finish this book, but you will have to be totally dependent on me. And by the way, I am not going to fill out your writing schedule in advance. I will give you each topic week-by-week, and we will finish it together on my timetable, not yours."
Thank you for this encouraging message, Lord, and thank you for sending your majestic creature to deliver it to me.