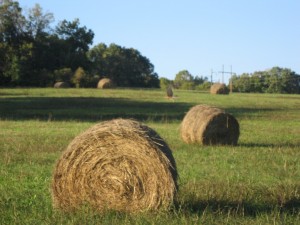 Some aromas permeate our childhood memories like vanilla in cookie dough or yeast in cinnamon buns. They come to mind as surely and sweetly as secrets sisters share growing up. For me, one of those fragrances is the scent of freshly mowed hay in the fall—the last cutting of the year. Call me a hayseed if you'd like, but from an early age I've had the best kind of hay fever.
I grew up on a non-working farm in East Tennessee, meaning that farming wasn't how our family earned our living. But we lived in a big white farmhouse with a screened-in porch that was surrounded by pastures. We also had a large red barn and a couple of horses, and throughout the years of my childhood owned an assortment of dogs, cats, chickens, rabbits, pigs and one notorious goat named Billy (of course). Billy had to quickly find another home after he ate 12 blossoms off my mother's prized geranium one Sunday while we were at church!
Even as a tiny girl I remember "hay-cutting day" as a time of excitement in our home. My two sisters and I would hear the big combine lumbering down the two-lane road toward our house before we saw it, but we already knew it was time for the hay to be mowed because of the aromas emanating from the kitchen.
My grandmother lived with us, and on hay-cutting day she took it upon herself to cook a big pot of pinto beans for the workmen to have for lunch—along with cornbread baked in a cast-iron skillet. Once a whiff of those two dishes cooking at the same time wafted upstairs, even the sleepiest heads woke up early on a Saturday morning so as not to miss Granny's home cooking.
Even now on road trips I never fail to notice baled hay in pastures we pass. The bales we watched roll out of the hay-baler in my childhood were the traditional, rectangular box shape—easy to store in the barn for feeding the horses over the winter. But my favorites now are the big circular bales like the ones above that I photographed on our family property in Tennessee last month. I even spied some in Tuscany when we were there a few years ago. Much to my husband's amusement, I often want to photograph hay bales. No other sculpture speaks to me the same way.
My sister-in-law Mary, since deceased, was an excellent horsewoman and the only person I've ever known who was a hay connoisseur. If we were stuck behind a truck full of hay on the highway I might be frustrated wondering how to get around it, but Mary would be assessing the quality of the hay on the truck and whether she would feed it to the horses in her care.
So now seeing hay reminds me of a cherished sister-in-law as well as my childhood home in Tennessee. No wonder I have hay fever.