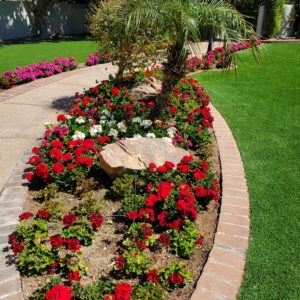 The hymn "In the Garden" has always been a favorite of mine. Whenever I choose it to close out a lesson from The Hope of Glory in an assisted living setting, it blesses the ladies there, too. Faces brighten, voices are raised, and we even come up with a bit of harmony. It's a beautiful, touching hymn, but I had no idea of its origin.
Thanks to the book Amazing Grace, 366 Hymn Stories for Daily Devotions, I was able to learn the whole story, and I discovered an Easter morning context.
In 1912 when author and composer C. Austin Miles was asked by his publisher to come up with a hymn that would "bring hope to the hopeless," he opened his Bible to one of his favorite passages in John 20—the account of Mary Magdalene encountering the risen Jesus at the tomb that first resurrection Sunday.
"As I read it that day, I seemed to be a part of the scene," he writes. "I became a silent witness to the dramatic moment in Mary's life when she knelt before her Lord and cried, 'Rabboni!' (which means Teacher)." (John 20:16) Divinely inspired, he set pen to paper and wrote the poem, "In the Garden." That same night he wrote the music. Knowing this, I now look at the hymn with a deeper understanding of its meaning. Come to the garden with me as we explore the three stanzas and the familiar refrain.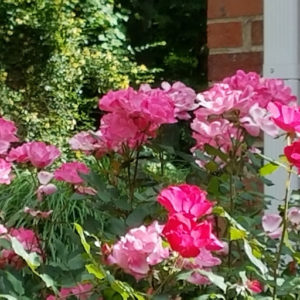 I come to the garden alone, while the dew is still on the roses; and the voice I hear, falling on my ear, the Son of God discloses.
What gardens in your memory call out to you still? More important, do you hear the Lord calling you to meet with Him in His garden in the early morning light? He's available any time, day or night, but it's so much easier to hear His voice before the activity and noise of the day obscure it. Mary ran to the tomb at daybreak. Surely I can make it out to my chair in our living room.
He speaks, and the sound of his voice is so sweet the birds hush their singing; and the melody that He gave to me within my heart is ringing.
I can't hear the birdsong outside with our house still closed up from the cold, but from my chair I delight in seeing the birds through the window. Annie, the little orange cat curled up on my lap, watches them with me. I read. I pray. And sometimes I hear His voice in reply. Earlier this week I was praying about what I should write for my Easter post. I heard three words in my spirit: in the garden. Ask and you may hear Him too. If not immediately, then perhaps some time during your day. Trust me. When He speaks, you will know.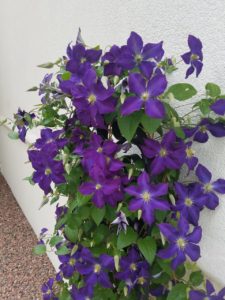 I'd stay in the garden with Him tho the night around me be falling; but He bids me go—thru the voice of woe, His voice to me is calling.
How Mary Magdalene must have longed to cling to her Savior by the garden tomb that morning and to abide with Him forever. But it wasn't her time to dwell with Him in heaven. Instead, Jesus "bid her go" to the disciples and tell them He had risen just as He said. And so she ran to them exclaiming, "I have seen the Lord!" (John 20:18) This Easter, could He be asking those of us who know Him to do the same? To share with others the personal encounters we have had with Him? I believe so.
Now, this beloved refrain:
And He walks with me, and He talks with me, and He tells me I am His own, and the joy we share as we tarry there, none other has ever known.
Were sweeter words ever penned? If you've yet to experience an intimate moment with the Savior, this Easter ask Him to meet you in the garden—the one He's placed in your heart. He'll show up. Will you?