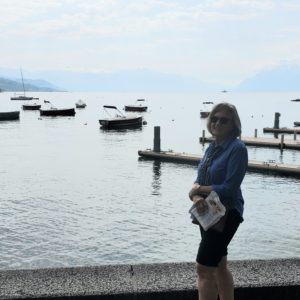 I'm barely getting off a blog post this month but I feel I owe it to you faithful readers to provide something! Since most of July was consumed with preparing for and recovering from a two-week trip to Europe that we were blessed to take for our 35th Anniversary, I invite you to come away with me on what I'm calling "The Amazing Race," the second week of our trip.
The first week was memorable too as we were on a Viking River Cruise from Paris to Normandy and back again. Seeing Paris, the stops in villages along the Seine including Monet's gardens and home in Giverny, learning French history, the serenity of the swans along the shore, the fabulous food and flowing wine—we won't forget any of it. It was a week of pampering, and so I'm calling week one the "Luxury Camp for Adults!" Of course the most memorable and somber day was when we visited Omaha Beach in Normandy and the American cemetery above the cliffs there. The magnitude of the courage and sacrifice displayed on June 6, 1944, may never be repeated. It was a privilege to walk that sacred ground.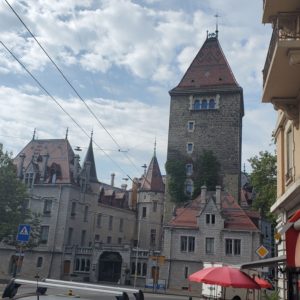 But once all that was over we were off on a grand adventure jumping on and off trains in Switzerland and Northern Italy. That's the week I'm calling "The Amazing Race!" I can't say we did it all on our own because our AAA travel agent booked the trains and hotels and made sure we had all the passes and vouchers we needed, but it was up to us to make it happen.
Grateful that we had limited our luggage to two small bags plus carry-ons, we took the first train ride from Paris to Lausanne, Switzerland, the city where my great-great-grandmother Elise Porta married Edouard Bolli on July 1, 1836. Strolling along the shores of Lac Léman (aka Lake Geneva), I imagined her doing the same in much different attire. Perhaps a bustle and a parasol? We stayed in Chateau D'Ouchy, built in 1893 around a stone tower that was the only preserved part of a castle built in 1170 to serve as a home for bishops. I'm sure Elise also saw that tower. It was all very touching to me, and I'd love to spend two weeks there researching archives. The ham and cheese crepes we had for dinner at an outdoor cafe will go down as one of our most memorable meals.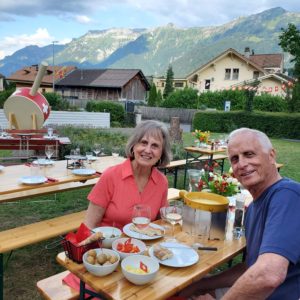 Our schedule was such that we traveled around noon each day and so had a long afternoon, evening (the sun set about 10PM), and morning in each location. Yes, it was a quick visit in each place but the timing made it seem like we were there longer. So from Lausanne we hopped on a train to Interlaken. As the name implies the city is situated in the Alps between two clear, blue glacier lakes we marveled at from the train coming and going. Colorado readers will understand when I say the town was a lot like being in Vail, plus the lakes and the history of course. Paragliding is a huge sport there and as we rolled our luggage from the train station to the Krebs Hotel the sky was full of paragliders! Our dinner that night was a "typical" Swiss fondue as they say. We walked a few blocks to a charming restaurant with outdoor seating where our hostess told us the history of fondue. Apparently when herdsmen took their cattle up into the high country they took along bread and cheese to sustain them. But the cheese got moldy and the bread dried out, so they came up with the idea of heating up the cheese and dipping the bread into it! What's in a traditional Swiss fondue today? Bread and potatoes. Our hostess added some peppers, pickles, and onions, but no meat dipped in oil or fruit dipped in chocolate. (Which is not to say we missed out on Swiss chocolate—au contraire!)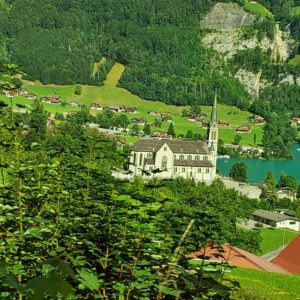 So much more to say about Interlaken, but pack up those bags, we're moving on to Lucerne. The train ride from Interlaken to Lucerne took us up over the mountains past beautiful green, alpine meadows dotted with chalets and villages built around majestic, stone, steepled churches. How we were booked into the Hotel Schweizerhof we'll never know, but it was beyond luxurious and has a history of hosting the likes of Winston Churchill and FDR. Right on the banks of Lake Lucerne, the town features an old covered bridge and so many dining and shopping opportunities. (Due to no luggage space we were limited to buying disposables—like chocolate!) We took a guided boat trip on the lake and learned a lot of Swiss history, even seeing the manor house on the shore in Tribschen where Richard Wagner lived from 1866 to 1872.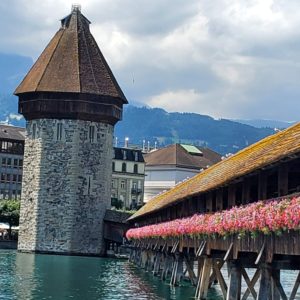 While there he worked on many compositions, including Seigfried Idyll, which was described as a birthday gift to his second wife, Cosima, and a love letter to the lake.  We had more time here than anywhere and really enjoyed every bit of it. Our lakeside dinner wasn't memorable but Chardonnay cucumber soup for lunch the next day was simply amazing.
Don't get too comfortable in the lap of luxury in Lucerne, however! We're off to Lake Como, Italy, hoping to catch a glimpse of George Clooney and his family. We didn't, but sure saw a lot of the "beautiful people" there. It seems the young women are all thin and tan, wear white, and carry a designer dog under one arm—or peeking out of a designer bag! We arrived later here than in the other cities, however, and had to laugh when we walked into the room they'd saved for us at the Metropole and Suisse Hotel (compared to the room we left in Lucerne). It was walk-in closet sized, but did have a lake view as promised, and we began our evening there with a gorgeous sunset. Time for pizza and red wine at an outdoor café on the piazza—and did I mention gelato? (That was a staple wherever we went.)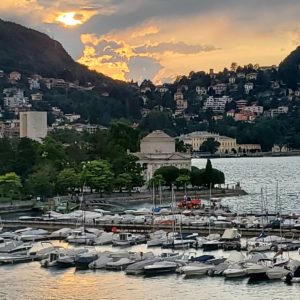 The next morning we walked around the lake and enjoyed more piazzas—one of which features a huge statue of Alessandro Volta, the inventor of the electric battery. Taxis are rare in Como, so we walked a long way downhill pulling our bags over cobblestone streets when we arrived, and it took everyone on staff at our hotel to finally secure us a taxi back uphill to the train station. On to Milan! Did you forget anything?
Milan was our last stop before our early morning flight home the next day so we didn't really see much of it. (What we did see on the pre-dawn trip to the airport was architecture similar to Paris.) That night we Googled the closest pizzeria to our hotel, the Crown Plaza, and stumbled into a delightful restaurant with a very entertaining proprietor, Matteo. When Jim asked if they had thin crust pizza he smiled and said, "This is not Pizza Hut." We all had a good laugh and he kept the wine coming!
Just a word about language. In Lausanne they speak Swiss French. In the other cities we visited in Switzerland they speak Swiss German. I was surprised how much of my high school French and the German I learned living in Germany in the 70's came back to me, so I gave it my best effort!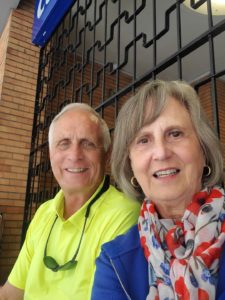 However, most of the people we encountered spoke at least some English, so they would smile and reply to me in English. (Jim thinks he's mastered Italian by adding an O to the end of every word. It pretty much works!) As for currency, France and Italy use Euros, Switzerland has Swiss Francs.
If you're still reading, thank you for taking "The Amazing Race" with us! What I loved most was being on a "team" with Jim, working together to catch each train and deciding how to spend our time in each location. It was affirmation that God knew what he was doing when he brought us together as a husband and wife team 35 years ago. We came home a little weary, but feeling so blessed and grateful.