My sisters and I had a unique and humbling experience recently. We were asked by citizens of a neighborhood in Knoxville, TN, where I grew up, to attend the dedication of a historical marker erected in honor of some of our French-Swiss ancestors who settled in East Tennessee in the mid-1800s. Alongside the marker was an old mill grindstone, donated by our family.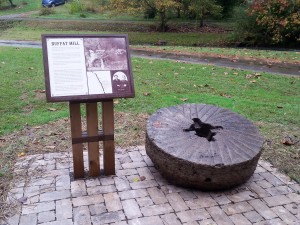 My great-grandparents, Alfred and Elisa Buffat, founded the Buffat Mill which became the largest grist mill south of the Ohio River. Like other families of French-Swiss immigrants, they settled in the valleys of East Tennessee, close to the Appalachian Mountains, because the region reminded them of their home in Switzerland. The site for the grist mill was by a creek that still runs through the property today.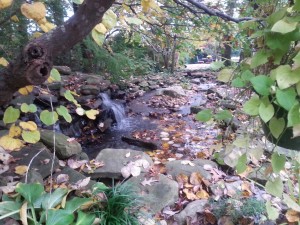 In 1976 my father donated some of the land he had inherited to the county for the establishment of a neighborhood park. It was in this park, by the creek, that the ceremony dedicating the marker was held on a drizzly day the end of October.
As I sat there with my sisters, listening to the mayor speak about the importance of community and legacy, I was fighting back tears. I knew how very proud my dad would be that his grandparents were being honored in this way. And I was proud of him for all he did to preserve their legacy. "You won't know where you are going if you don't know where you've been," he would tell my sisters and me as he launched into another history lesson about our family. We would roll our eyes, impatient to go outside and play.
At some point the stone was moved to the front yard of our family home where it sat for decades surrounded by flowers and shrubbery until my sister Mary arranged for it to be donated this year. "I remember sitting on the stone eating my peanut butter and jelly sandwich on days Mom would pack my lunch and send me on an adventure," my sister Patty said. Now we sat looking at the stone in its place of honor.
Although I wrote a book about my great-grandmother Elisa in 2000, The Journey of Elisa, I don't feel I've done enough to pass family history down to my own kids and grandkids, and I vow to look for more opportunities to do so. After all, don't they deserve a chance to roll their eyes at me?
My friend Jan Keller, publisher of The Country Register, came up with a creative way to share family history. She and her husband visited the homestead of her pioneering ancestors in Eastern Colorado. The homestead once included an old rock well house and a windmill. Collecting a few of the rocks now scattered on the ground, she gave one to each grandchild for Christmas along with a little book telling them about their great-great-great grandparents! Jan said, "I told them their Grandpa Joe touched those rocks many times as he built the homestead, and now they have one they can touch."
If Jan and I have such "family markers" in our families, surely you do also. If necessary do some research and learn stories about ancestors that you can share with those who follow you. There could be a grindstone or an old rock well house in your family's history, too. Or perhaps your family markers include a productive farm or a grocery store that sustained a community for generations. Regardless, we all have family markers, and they are all worth remembering.
View a YouTube video of Nancy talking about The Journey of Elisa in 2011 here: