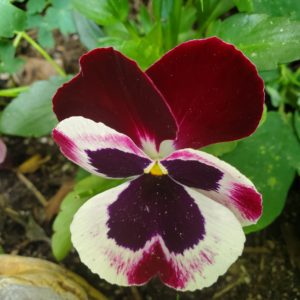 Flowers have a language all their own. While I enjoy them all, it is the pansy that speaks to me most loudly and most soulfully. It's said the pansy stands for thoughts. In fact the name comes from the French word penser, to think. So no wonder pansies inspire so many thoughts and memories.
We had an unusually rainy May in Colorado, but between showers I was able to plant a few pansy plants in the shade garden by our front door. I don't know why the practice of calling someone "such a pansy" when he or she doesn't rise to a challenge ever came to be, because pansies are resilient. Mine took the deluge of rain day after day bravely and now they are flourishing. When I travel to even slightly warmer climates in winter, I'm always amazed to see pansies thriving there. They persevere.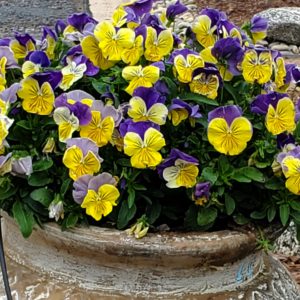 While they do so whimsically, pansies also reseed themselves. When we moved into our home I was delighted that our closest neighbor had planted pansies in the two tree rings in his front yard. Sadly he passed away a few years later. The first year he was gone I asked his widow if I could fill the tree rings with pansies in his memory. Of course she said yes. But pansies are edible, and rabbits know that all too well! As our rabbit population increased over the years, my neighbor and I decided we would go with marigolds instead. Still, some of the previously planted pansies poked up among the marigolds, making us both smile.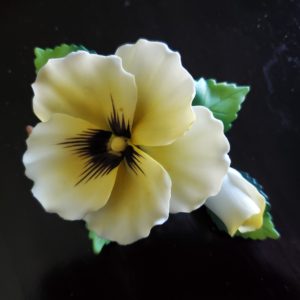 Maybe because they stand for thoughts, pansies have a way of connecting hearts. The pansy is the official flower of Delta Delta Delta, the sorority my mother, two sisters and I all joined in college. So my mom and I had a "pansy thing" between us, often giving one another gifts with a pansy design. A year after my sisters and I had convinced my mother it was time for her to move to assisted living, she asked to go to lunch with the three of us. "You were right to encourage me to make that decision and I'm sorry if I made it hard on you," she said. Then she gave us each a gift—a beautiful porcelain pansy blossom.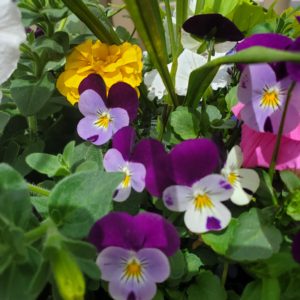 I love all pansies, even the similar but smaller "Johnny Jump Ups" I nestle in to my French garden pots, but my husband knows my favorites are "pansies with faces." So we stroll through all the nurseries near us until I find some. That's because of the Legend of the Pansy. It's said that pansies grew around the base of the cross the day Jesus was crucified, and that His blood dripped down on them, giving them their distinctive, face-like design. Yes, it's a legend. But it's one more reason to love pansies, to let them speak to us—even spiritually, and to think of them fondly.