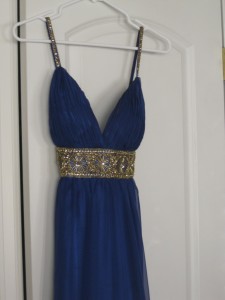 Imagine my delight at not only getting to go shopping with my granddaughter Amanda and her mom to pick out her prom dress, but also getting to see her in it before her senior prom last weekend! That she carried a gold evening purse that had been my mom's was an added blessing.
Little does Amanda know how long that dress will stay in her memory…and what a defining dress it is. I subscribe to the theory that anything we don't wear for a year needs to go to a consignment shop or charity bin–everything except those few defining dresses that we all have in the back of our closets. If, because of a move or a  housecleaning frenzy, such a dress isn't there anymore, the memory of it occupies a familiar closet of our minds. It's a defining dress not because of its expense or style, but because of who we were when we wore it.

We remember everything about such a dress: how it felt to pull it on over our heads; the sound of the zipper; the smell of the fabric; the feel of the sash. All are as real today as the day the dress first hung on the outside of the closet door waiting to be tried on just one more time.
A dress that is forever in my mind was not mine, but my older sister's. I was ten when she was nominated for homecoming queen, and rode around the edge of the football field waving from the back of a white Thunderbird convertible. She was wearing what I thought was the most beautiful dress in the world. It was a long, strapless gown made of tiny rows of red netting forming a huge, hoop skirt and a heart-shaped, fitted bodice. To me, my sister was Cinderella, Sleeping Beauty, and the fairy godmother all rolled into one, and that red dress was the most gorgeous dress I'd ever seen.
Most of us will mention a prom dress or two when asked about our defining dresses. Mine was long and straight with an empire waistline. The top was yellow, the bottom was yellow and white, and an avocado green, velveteen ribbon separated the two fabrics. I can still remember dancing to the music of The Temptations in that dress, my fake cascade of curls bouncing up and down on my head as the 150 bobby pins I had used to attach the hairpiece poked into my scalp in a desperate attempt to hold on.
A cotton dress I've saved for 42 years has multi-colored alphabet letters scattered at random over a bright yellow background. You guessed it. It was a mini maternity dress in 1970, and I wore it to the hospital when my first son was born. Since he turned out OK, I decided to wear the same dress to the hospital three years later when my second son was born, but this time it was a maternity top.
Now the dresses I can't seem to part with are all connected to one of our grown kids' weddings. We all have so much more than we need. I'm prepared to simplify my life and my wardrobe as long as I get to keep the memories…and just a few defining dresses to keep them fresh.