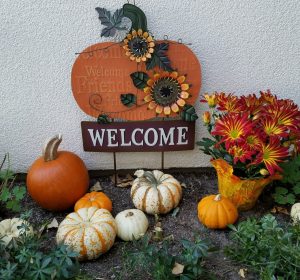 I know the word is really folderol, or falderal, and means foolishness or nonsense. But when I used my version to describe a neighbor's wonderful display of all things autumn at her house we both laughed—so I thought I'd spread the joy!
Actually fall decorations aren't nonsense, they are delightful and meaningful. The most lavish displays of fall-da-ra I've seen in my lifetime are in East Tennessee. Visiting my home state in October, and driving through Pigeon Forge to Gatlinburg and on to Cades Cove in The Great Smoky Mountains National Park, I saw more pumpkins, scarecrows, dried cornstalks, decorative corn and gourds, hay bales and mums than I knew existed. Every street corner, business or residence has a fall display each year, and many rival a Macy's window at Christmas time in terms of creativity and abundance.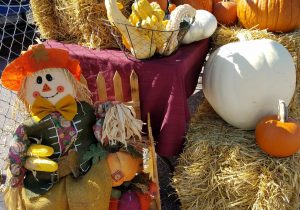 So what motivates us to do this kind of fall decorating? Why do I have three tubs of fall decorations myself, and take great delight in setting out autumn leaves, pumpkins, and all things orange, red, and gold? The tradition actually has very deep roots. Anyone who has farmed or been around a farm knows the activity and celebration that accompanies the harvest season. Once all the hard work is done, the hay is baled and in the barn, the produce is picked and canned for winter, then it's time to party!
Neighbors in farming communities still come together bringing fresh-baked apple pies and squash casseroles to share. Tables are decorated with mason-jar bouquets of the last blooms from the garden. There might even be a square dance to the tune of a fiddle or two—all under the glow of a big orange harvest moon. After all, in some areas of the country neighbors might not see one another again until the spring thaw. Time to celebrate!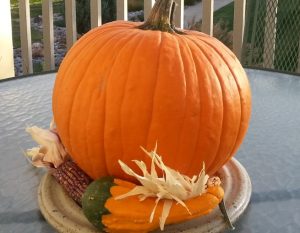 As for the even more meaningful part, harvest is mentioned throughout the Bible. After the great flood detailed in Genesis, God promised Noah: "As long as the earth endures, seedtime and harvest, cold and heat, summer and winter, day and night will never cease" (Gen. 8:22). In Exodus 23:16, God named one of the three feasts He expected the Jewish people to celebrate the Feast of Harvest. "Celebrate the Feast of Harvest with the firstfruits of the crops you sow in your field," He said.
As with most Biblical themes, the harvest is carried through from the Old Testament to the New Testament. So we read in Galatians 6:9: Let us not become weary in doing good, for at the proper time we will reap a harvest if we do not give up.
Why have some fall-da-ra? To celebrate hard work completed—that we truly do reap what we sow. To acknowledge God's abundant blessing in our lives and prepare for the upcoming season of Thanksgiving. To remind ourselves that it's never too late to live a productive life from which others can glean something useful.
So pile up the pumpkins, make a centerpiece of multi-colored mums, light the spice-scented candles, set the cobbler on the counter to cool. It's fall. Time for some fall-da-ra!