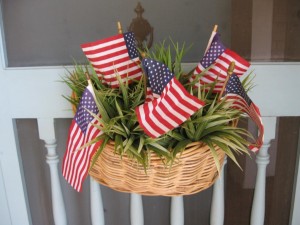 To add to the Memorial Day tributes I am re-posting something I first wrote in October 2009, with a grateful heart for all the men and women who sacrifice so much for all of us.
The faces and stories on the news and in our local paper have appeared in a steady trickle over the last eight years. Another soldier lost, another family grieving. But the news this week that eight young men from the 4th Brigade Combat Team at Fort Carson, CO, had lost their lives in a bloody firefight in Afghanistan—where they were horribly outnumbered by attacking insurgents—has hit me extremely hard.
You see,  I can stand out on my deck and see part of Fort Carson. I drive by the Mountain Post often. At the shopping center just down the hill, I frequently encounter young GIs in their crisp, starched desert fatigues, going about all the ordinary activities of their lives that don't put them in mortal danger.
As I watched the news accounts of the losses this week, I looked at each face intently. Is that the young man who held the door for me as I went into the cleaners carrying a pile of dirty clothes? Are those the guys who stood in line with me at Black Bear Coffee last summer, turning to say, "Have a good day, mam!" before they left?
One day my friend Pat and I were having lunch in the sushi restaurant down the hill in that same shopping center. We couldn't help but notice a couple of young soldiers counting out their change to cover their lunch tab. "Never mind!" we called out to the waitperson. "We've got their lunch."
"Oh, no mam," one of them said, turning to look at me with his piercing blue eyes. "You shouldn't do that. We're here to serve you."
"Well, you are serving us," we said. "This is the least we can do."
With a heavy heart one morning this week, I dug one of those rubber bracelets everyone wears to support their causes out of my jewelry box and stretched it over my hand. It's camouflage green, and I got it when I gave blood in a drive for the soldiers a few years ago. I wanted to wear it as a reminder to pray for the eight families grieving.
As I went about the activities of my day—enjoying my protected, free life—I wanted to remember that we are still at war, that troops are still in danger, and that all of them need our prayers and deserve our deepest gratitude.
These were our boys who died this week—guys from our neighborhood. Remembering them with honor? Well, it's the least I can do.