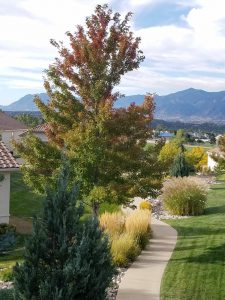 You know us when you see us. Those of us who can't quite let go of the season we are losing to fully embrace the one that is coming. Especially when it means letting go of summer to embrace fall or fall to embrace winter.
We're the ones in the grocery store in a turtleneck, a vest, shorts and sandals. We're the ones who keep bringing in our outdoor potted plants every night to protect them from below freezing temperatures because we just know warm days will return. And we're the ones who leave our hummingbird feeders up until the nectar's been frozen for several days in a row.
In our defense, however, it's easy to understand why Colorado residents might be clinging to summer and fall both this year. Summer temperatures and blossoms were late in arriving, and an early frost cheated us of the beautiful showing of fall leaves on trees at lower elevations.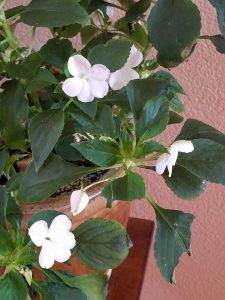 When I left for a trip, the red maple behind our house was just beginning to show tinges of red around the edges of each leaf. I came back a week later excited to see it flaming red as in years past, but no. All the leaves had already turned brown and were blowing away with each wind. "Wait!" I wanted to scream. "You haven't turned bright red yet!"
In the biblical book of Ecclesiastes, however, the author Solomon reminds us that: There is a time for everything, and a season for every activity under the heavens (Ecclesiastes 3:1). Reading through his reminders of such things as a time to be born and a time to die, a time to plant and a time to uproot, a time to weep and a time to mourn and on and on, I realize it could be time to let go of fall and embrace winter.
What does this mean? It's time to switch summer T-shirts and sundresses for sweaters and corduroy pants in our closets. It's time to detach the hose, prune the perennials, empty the pots and store them. It's time to dig out the boots, the mittens and scarves and fill the hall closet with warm winter coats.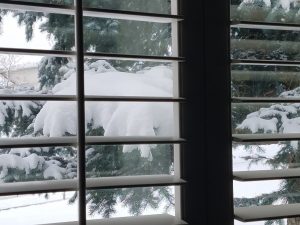 Solomon goes on to write that God has made everything beautiful in its time (Ecclesiastes 3:11). The pot of impatiens I couldn't bring myself to sacrifice is almost as beautiful in the house as it was on the front porch in July, and I only have to look outside my window this morning to remember that the coming winter season will have beauty all its own. Okay, God, I surrender. You're telling me it's time to let go and move on, so I will. As always, I trust Your timing.