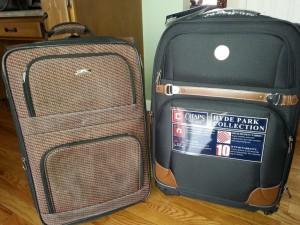 I have difficulty emotionally letting go of both cars and luggage. Once I've driven a car for 8 or 9 years and it has taken me safely wherever I wanted to go, trading it in seems like such a betrayal. Likewise, it's hard to let go of a suitcase that's collected memories like the stickers they used to put on the old steamer trunks.
Yet trading up to a new set of luggage had become a necessity for my husband and me. Even though we didn't particularly want new luggage, we needed it. No really. We'd already had the zippers on the old set repaired once, and had resorted to using paper clips for zipper pulls. Each bag in the set is pretty well coated with airport grime, the faux leather trim is scraped off in many places, and the linings are ripped and holey. It was time.
I look at the new bag we bought (shown on the right) and it's exciting to imagine all the places it might go with us as we move into Act 3 of our lives; but I look at the old bag on the left and remember all the places it's been.
I have so many memories of the old bag laying open on our bed as I struggled through packaphobia before any one of the trips I've been blessed to take—often with a cat or two curled up inside hoping to go along unnoticed. That bag has been on numerous trips to visit grandchildren over the last 10 years or so since I bought it on sale at Sears…one of a nesting set of three for about $100. (The day I bought it I never dreamed it would last this long.) It's carried Christmas gifts, birthday surprises, stuffed animals…you name it.
I can't begin to remember all the vacations this bag has taken, but I know we pulled it for what felt like miles over cobblestone streets in Venice a few years ago as we looked for our hotel. That may be why the wheels are a bit wobbly. It was also on our 25th Anniversary trip to California in the Summer of 2013. Did it enjoy traveling the Pacific Coast Highway from the back of our rental car as much as we did from the front seat?
Maybe my affection for luggage stems from the fact that, like a long lost friend, I'm always so happy to see it again after a separation. When my bag emerges from the belly of the airport onto the carousel at my destination, my heart skips a beat and I'm silently screaming, "There it is! My bag made it!"
I know suitcases don't have feelings (well, I don't think they do!) but just before taking this one out to the donation pile I wanted to stop and acknowledge how grateful I am for all the times it traveled alongside me, showed up when I needed it most, and fulfilled its purpose well. May the same be said of me some day.