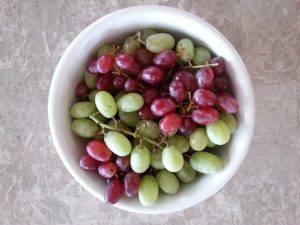 Even when grapes aren't on my grocery list it seems I always come home from the store with some. I can't resist those beautiful green or red orbs, now usually packaged in easy-to-grab cellophane bags.
And is there any other fruit more…well, fruitful? Grapes are not only a delicious, nutritious snack for school kids and dieters, they are used to make jam, jelly, juice, raisins, vinegar, grape seed oil and, of course—wine! In fact, 71% of all grapes grown are used to make wine, and the United States is fifth in in the world in grape production, behind Spain, France, Italy and Turkey. (If you somehow missed seeing the episode of "I Love Lucy" where Lucy visits a winery in Italy and learns to stomp grapes, find it on YouTube. It's always good for a laugh!)
In this season of nostalgia and gratitude, however, I've discovered yet another purpose for grapes. No doubt you, like me, have friends and acquaintances going through difficult times this season—or maybe the person suffering is you. Two people I know have recently been diagnosed with breast cancer. A wonderful couple in our community lost a son to addiction in spite of every effort to save him. Natural and manmade disasters fill evening news reports and newspapers.
In light of all this, I want to be more aware of the blessings I have been given—and to focus anew not on what I don't have, but on what I do. This is where the grapes come in. While sitting quietly with a small bowl of grapes next to my favorite reading chair, I decided to let each grape I plucked from the bunch represent a blessing that came my way this year. Taste and see that the Lord is good…we read in Psalm 34:8. Oh how His goodness became apparent to me as I acknowledged one blessing after another…all while enjoying the fruit of the vine.
On every bunch of grapes there will be a few vacant stems. Maybe a bird ate that grape or it was sorted out of the bunch for some reason. I let the empty stems represent blessings that didn't come my way, but went to someone else instead. Maybe to one of the people that I know is hurting. And so I was even grateful for the missing grapes.
Grapes nourish us, but then so does gratitude. It's said a grateful heart is in itself a prayer. I hope you can join me in being grape-ful this season. Taste and see!
This blog post first appeared as a column in The Country Register, Nov-Dec 2016.