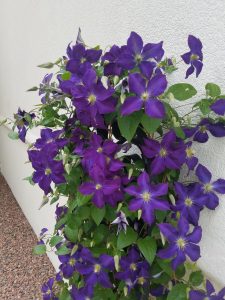 So you read this title and thought: It's happened. The woman is delusional or has been living in a cave. Doesn't she know that a pandemic spread across the world cancelling life as we knew it? Doesn't she know that violence is destroying some of America's most renowned cities and wildfires are raging? Doesn't she know that the political divide has never been deeper, and that the fate of our nation rests on the outcome of the next election? Yes, yes, and yes. I know all that.
But I'm also aware that while we've been distracted, concerned, confused, fearful, and maybe just plain mad about all the above, summer simply made her seasonal appearance. And, at least in our corner of the world, she did so in a spectacular and satisfying way.
Although September in Colorado brings many beautiful, warm days, summer always seem to be officially over when school starts—either in classrooms or virtually as this year. So I'm already reflecting on what was so special about a summer that may have slipped by unnoticed.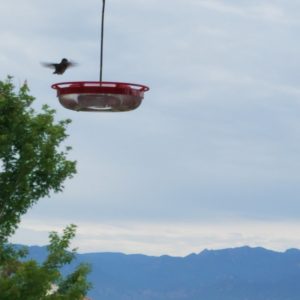 My husband and I had extra time on our hands which we chose to spend outside walking, swimming, or gardening whenever we could. We actually got tan through the sunblock this year! That's summer.
After five years in this house, we finally had our own charm (the group name) of hummingbirds. One morning I counted five at the feeder at once! I know for some of you that's still a paltry few, but since sightings have been so rare for us it was exciting enough for me to put up an extra feeder. Each morning and evening I've been charmed by their antics. That's summer.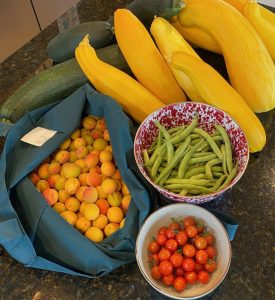 Our flowers outdid themselves. The clematis and rose bush in our front yard bloomed not once but twice, and the pots of annuals on the deck performed profusely too. There's just something about going out barefooted early each morning to water your plants. That's summer.
The farmers' market brought fresh green beans, peaches, and homegrown tomatoes, and my son's vegetable garden produced a bountiful harvest, too. That's summer.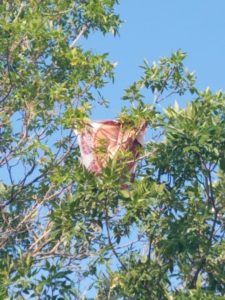 We're blessed to have two parks near us and though organized sports leagues were cancelled, the sound of children playing was reassuringly normal. We heard the crack of the bat from pick up baseball games, got to pet all the dogs on their way to the dog park, and even caught sight of a kite stuck in a tree. That's summer.
Did you miss it? If so, it's not too late. Set aside your worries about all the things you can't do much about anyway and get outside so God's gift of summer can speak to you. You'll find her message quite soothing and satisfying.