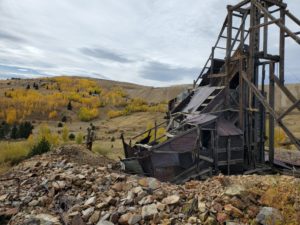 This is my forty-fourth fall living in Colorado. Forty-four years of aspen gaspin' drives and hikes through the golden glow of quaking aspen. Yet I have to say this year's hike may be the most memorable. Once you hike a trail you can stake a claim to it! I'm glad I made this one mine.
Friends had clipped a description of the Vindicator Valley Trail from the Colorado Springs Gazette a while ago—one of the finds from adventure reporter Seth Boster. They invited us to join them so we set out on a partly overcast, breezy but nice fall day toward the historic mining town of Victor, Colorado.
The trail was easy to find just off County Road 81 and has been well maintained by the nonprofits that support it. As advertised, it not only provides gorgeous vistas of aspen, but also educational discoveries at every turn as hikers stop to read the historical markers and see the remains of gold mines that saw their glory days in the late 1800s.
The two-mile hike up hill and down at 10,200 feet in elevation did exercise my body, but it was my imagination that got the best workout. I had forgotten how many of the old mines were named for women, and I couldn't help but wonder who these women were, and how they felt about having a gold mine named after them.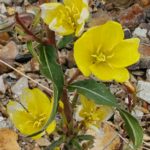 Was Theresa someone's beloved wife, perhaps a mail order bride from back East who responded to an ad to marry a rich gold miner out West? Or did the miner who went into Victor to file his claim slap a piece of gold ore on the bar and tell the barmaid in her flouncy skirt and bustier (like Miss Kitty in Gunsmoke), "I just found me some gold, Theresa! And I'm naming the mine after you!" How would she have responded as she poured whiskey into the glass he held in his gritty hands? And did he expect something in return? Without doing a lot more research, I can only imagine.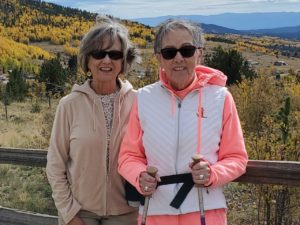 Maybe Annie J. was the darling granddaughter of a mine supervisor. A little girl with golden curls who loved to visit the mine with her grandpa, her little hand in his, as he checked on the day's yield. And what about Glorietta? Was she someone's grandma known for her beans and biscuits, or a sister who died too young from consumption? Surely Lillie was a dance hall performer. Or not. I'd love to know.
At the end of the trail we were amused to find a sign with an oft used miner's toast: "May you stand in ore and your labors be in vein." And may you venture out on Vindicator Valley Trail yourself some golden aspen day. It's a wonderful reminder of what's still good about living in Colorado. You may want to include visits to nearby Victor and Cripple Creek, too. Make the golden adventure yours.