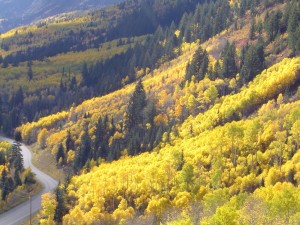 (A classic column becomes a blog post.)
Fall is the time of year when trees dress in their best and demand our undivided attention. Two magnificent maple trees are rooted in my memory. One stands outside my childhood bedroom window in Tennessee. I call it my "thinking tree," because I spent hours draped in its limbs pondering life. The other was dubbed "Mom's Tree," because for four years I sought it out on my son's Midwestern college campus and took its picture. I'm sure it's still there, watching over the backpacked students shuffling by with their minds on anything but leaves.
Those of us with such trees, such multi-colored falls, in our memories are fortunate. Yet those of us in Colorado try not to let those memories diminish our enjoyment of our fantastic Colorado falls. After all, other people have to motor for miles to marvel at the contrast of an expanse of golden aspen against the deep evergreen of the pines. We live here and can be gaspin' at the sight of a stand of aspen in minutes.
Certainly these trees deserve our respect. When aspen gaspin' season arrives, they have to put up with a great deal of abuse. Imagine the conversation two aspen trees might have when they first see the line of cars and RVs snaking its way up the mountain pass:
"Oh, boy. Here they come again. Start quaking."
"I'm quaking…I'm quaking. There's that couple with the yippy dog climbing out of their RV. Didn't we see them last year?"
"Yeah. Gee, they've put on some weight. Maybe they should climb up here to see us instead of standing by the road with their binoculars."
"Not with that dog! Hey, what's a peak? According to these people we're always before it, at it, or past it."
"Who cares. I'm just glad they all leave before we're standing here stark naked with them gawking at us. That would really be embarrassing."
This year I intend to fully enjoy our Colorado fall, to get out of the car and hike through the trees. Whatever day I arrive will be the peak day for me. I'll keep those magnificent maple trees in my memory where they belong, but our glorious Colorado aspen deserve nothing less than my full, unmitigated admiration. This year, they'll get it.