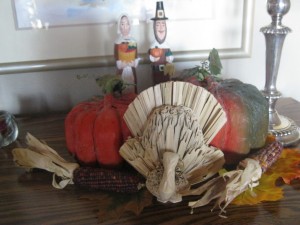 Here's a "Back Porch Break" classic with memories of Thanksgivings past. Wishing you and yours a blessed Thanksgiving, full of memory-making!
With each year that passes I become fonder of Thanksgiving. Uncomplicated by the excessive decorating and gift-giving that we seem compelled to do at Christmas time, Thanksgiving is simpler. It's all-inclusive, and it's a time for focusing not on what we don't have, but on what we do.
One of my fondest memories of Thanksgivings past was when I was living in a tiny village in Germany as the homesick wife of an Army officer and the mother of a two-year-old. The only other American family in the village invited us to share Thanksgiving dinner with them. They shared a tradition as well.
Many years and changes later that tradition is now a special part of Thanksgivings in our blended family. Although the group that gathers at our house can differ from year to year, someone's sure to ask, "Are we going to do the corn thing?" Here's how it's done.
After the table is set for Thanksgiving dinner, you put a single kernel of corn at each place (popcorn works just fine). Once everyone is seated, you pass a small bowl or cup from person to person. In turn, each drops his or her kernel of corn into the bowl and says what he or she is most thankful for this year. (I always leave the gravy on the stove and the lid on the sweet-potato-and-marshmallow casserole…this can take awhile!)
Since there are no right or wrong answers, we've found almost everyone feels free to say something. This simple sharing bonds young and old, and both laughter and tears are pretty much guaranteed! If you decide to try "the corn thing," the scene around your table could be something like this…
A mother might look down at the newborn sleeping in the crook of her arm and softly express gratitude for "ten fingers and ten toes.
A college freshman, home for the holiday with new appreciation for all that he left behind, might say, "I'm thankful for a home to come to…and that Mom's doing my laundry."
A grandma who successfully recuperated from heart bypass surgery might take the bowl in one hand, the corn in the other, and look around the table at people she loves. "I'm just thankful to be here with all of you," she might say through her tears.
A small child might wriggle and giggle when it's her turn, then say she's thankful for "mommy and daddy and turkey to eat."
One year, after the corn was collected and I was back in the kitchen pouring gravy into the gravy boat, I felt my little granddaughter Amanda tugging on my skirt. "Grancy!" she said with tears in her eyes, "I forgot to say I was thankful for Jesus—and for my sister!" I was glad to get everyone's attention again so Amanda could add her "overlooked blessings."
After the sharing, when the tears and laughter have subsided, we join hands and say grace. Of course, a grateful heart is the best prayer of all. May yours be full to overflowing with gratitude this year.