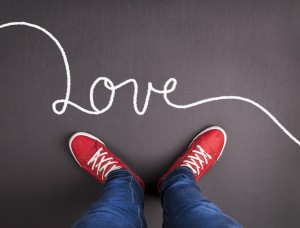 I remember the Valentine's Day in elementary school I dumped all the valentines out of my construction-paper covered shoebox and counted them. When I realized I got the same number as everyone else in the class, no more and no less, the valentines lost their meaning.
"They had to give me these valentines," I thought. "It doesn't mean anyone really loves me."
Maybe your kids will come home this week feeling less than loved because their bags of valentines were just like everyone else's, or they didn't receive all the valentines they wanted.
Psychologist Myrna Shure, Ph.D., professor of psychology at Hahnemann University in Philadelphia, urges parents to deal with such disappointments by helping children to talk about what they like about the valentine givers instead of the valentines, and to focus on the valentines they did get—not the ones they didn't.
These are good suggestions, yet they overlook the opportunity parents in this situation have to teach kids three truths about love: First, love sometimes hurts. Second, love also heals. And third, there are many different kinds of love.
These truths are often obscured by the hype of Valentine's Day. Each year Americans celebrate the holiday by sending over a billion cards and 60 to 70 million roses. All this emphasis on romance and the idealization of perfect relationships can lead children to believe falsely that love is all hearts and flowers.
Yet the young woman facing the break-up of a relationship or marriage knows love hurts. The parent whose child has taken a destructive path on the way to adulthood knows love hurts. The 80-year-old watching a beloved spouse slip into the fog of Alzheimer's knows love hurts.
Children need to understand that love can hurt so they will learn to appreciate that love can also heal. A hug and a listening ear are signs of love's healing power at work at any age. Kids need to experience both often.
They also need to learn to recognize the many different faces of love. Charlie Brown will return from the mailbox empty-handed if that little, curly red-haired girl rejects him again, but he will go home to a family that provides for him and a dog that accepts him just the way he is. He is loved.
The single man or woman whose friends call and want to get together is loved. So is the big sister whose little brother waits patiently by the door for her to get home from school so she can play with him.
We need to encourage our children to continue seeking and celebrating love in all forms, in spite of the pain it may bring, because of the incredible power it has to make life worth living.
Leo Buscaglia, in his book Living, Loving & Learning, writes, "I'm really convinced that if you were to define love, the only word big enough to engulf it all would be 'life.' Love is life in all of its aspects. And if you miss love, you miss life. Please don't."
This week our pastor reminded us of the greatest truth about love: Loving God first makes it possible for us to love ourselves and love others (Matthew 22:37). Tell the kids, and believe it yourself. Love is much bigger than Valentine's Day.