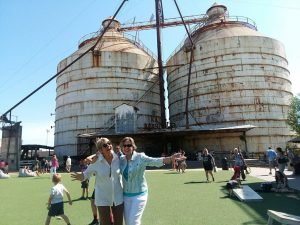 My friend Kathy and I loaded up and took off on a five-day road trip from Colorado Springs, CO, to Waco, TX. Fans of the HGTV show, Fixer Upper, we wanted to see for ourselves the silos, the suspension bridge, and the rolling green fields featured on TV.
We knew we liked the show, and thought its stars Chip and Joanna Gaines were just the greatest, but we weren't at all prepared for our reaction the first time those silos came in to view. Parking in the lot by the astoundingly beautiful and historic First Baptist Church of Waco, we were like giddy school girls as we climbed out of the car.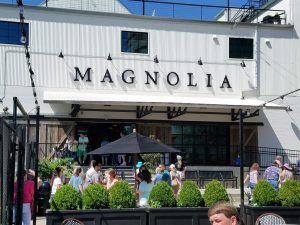 Of course we wanted to shop at Magnolia Market, made famous by founders Chip and Joanna. Everyone had warned us the line to get in would wind around the block, but we arrived when the store first opened on a weekday and walked right in. Oh my! Beautifully merchandised shelves of enticing candles, mugs, and decorator items filled our senses, much like walking on to any set of Fixer Upper. If you love Joanna's design style, this is heaven.
The temptation to buy at least one of everything was quelled when we looked at the prices however. So rather than buy the artificial magnolias for sale we took photos of the real magnolias in bloom all over town and inhaled their intoxicating aroma–a delightful pleasure for free!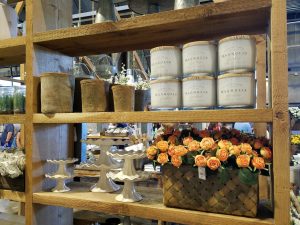 We did wait in line at Silos Baking Co. for some of their acclaimed cupcakes and biscuits, but enjoyed visiting with other fans of the show while we waited. The next day we ate breakfast at Magnolia Table—a remodel of the old Elite Café where Elvis frequently ate when he was stationed at Fort Hood, TX. Treating ourselves to huge breakfasts that included French toast or pancakes and Texas Pecan coffee, we agreed the time we had to wait was definitely worth it—as was every calorie. And of course we shopped the attached gift shop until our spot at one of the community tables opened up.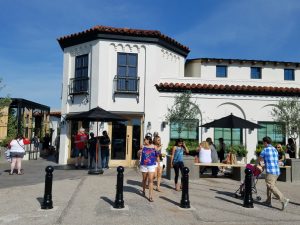 So basically we did everything on offer from Chip and Joanna and their growing brand, Magnolia. We were delighted with our experiences, just as we'd expected, so no surprise there. What did surprise us was how much we fell in love with Waco itself.
Super model turned entrepreneur David Ridley established Waco-tours.com with friends, and no visit to Waco would be complete without climbing on to one of their air-conditioned Mercedes vans and letting a well-informed, entertaining guide tell you the rest of the story about Waco. Yes, we drove by some of the homes featured on different episodes of Fixer Upper (and some of the women in our van could cite season and episode for each one!), including the home and workshop of Clint Harp of Harp Design. (Fans of the show know he's the one who builds beautiful tables for Joanna after she walks into his workshop with a big, "Hey, Clint!") But we also drove by Lake Waco, through the impressive campus of Baylor University, and saw the confluence of the Brazos and Bosque rivers from lush Cameron Park.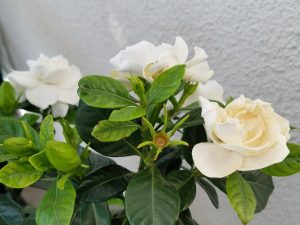 Our guide entertained us with the legend of the park's Lover's Leap, where a young Native American couple are said to have jumped to their deaths just to be together forever. Once back on the bus, he led us in singing the similarly themed hit from the '60's, "Running Bear," complete with hand motions. Pure fun.
There's so much authentic American history in Waco, and Kathy and I were impressed with how clean and well-kept the city was, as were the roadways we drove throughout Texas. We didn't have time to visit the Dr. Pepper Museum (Dr. Pepper was invented in Waco!) or the Texas Ranger Hall of Fame and Museum, but overall it was a fantastic trip. Think about makin' your way to Waco for all things Magnolia…and more!