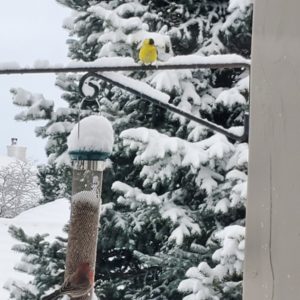 For those who may not know, we don't really have a spring season in Colorado. As a friend of mine said, what we have is "winter wrestling with summer." Eventually summer wins, but not without a struggle.
In March I begin to see Facebook posts from friends on the East Coast or in the South showcasing their crocuses, tulips and daffodils bursting with color. Soon the photos are of azaleas, dogwoods and redbuds in full bloom. Should I look up from their photos to gaze out my window, however, I'm more likely to see snow falling—not apple blossom petals, but real snow!
I try to be a good sport, and I've certainly been here long enough to know what to expect. The survival rules include not switching your closet over to lighter weight clothes too soon, or holding back a couple of turtleneck sweaters and some heavy jeans if you do. And never taking your coat to the cleaners. You're just asking for a blizzard if you do that! So we wash the flannel sheets but put them back on the bed. We keep the snow boots in the front closet. We tell ourselves "we need the moisture." And we wait.
Long ago my husband decided it was best to send me off to a location with real spring rather than to watch my stiff upper lip quivering for two months, and for that I'm grateful. This year my friend Kathy and I took a long road trip to Texas—emphasis on long. Wearily stepping out of the car in Waco, I immediately noticed the rejuvenating smell of green.
The next day we visited Magnolia Market. There and all over town the magnolia trees were in full bloom and the gardens were spectacular. After passing brown fields one after the other in Colorado and New Mexico, we were breathing in spring! Our next stop was to visit our friend Jimmie in Tyler, the rose capital of Texas. She took us to a wonderful rose garden, and we enjoyed seeing everything blooming in her yard and sat by her pool. All together it was the perfect cure for our winter blues.
Of course there are good things about our non-spring, too. If kids on spring break aren't heading off to Florida or Arizona with their parents they may go skiing. Spring skiing is something to be experienced at least once in life. It's not uncommon to see girls skiing in bikini tops or shirtless young men in shorts. This time of year at high altitude the sun is warm and the snow is slushy but cold. As skiers near the bottom of the slope the aroma of brats and hamburgers on an outdoor grill wafts up to meet them. Ahh! Not bad at all.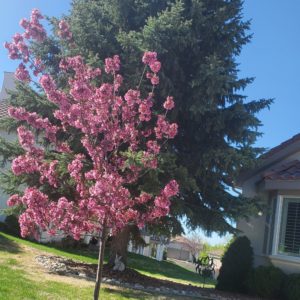 And the spring snow is pretty. During one April snowstorm this year a bright yellow goldfinch paid us a visit just to say, "Don't worry. Warmer weather is on the way!" Already I see signs that summer may soon have winter on the mat. Our grass is finally starting to green up and the little crabapple tree in our front yard is in its God-given glory. Maybe it is May at last.