My guest blogger today is Finnegan, a 4-month old Australian Shepherd and Golden Retriever mix.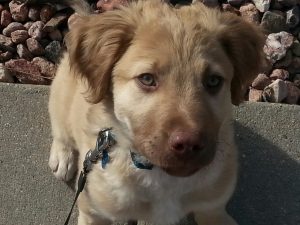 F-I-Double N-E, G-A-N spells Finnegan. That's the name my family gave me when they rescued me from the adoption fair at Wag-n-Wash. My middle name is Tails because the adoption lady couldn't decide which of two families to give me to so she flipped a coin. My human brother Liam called out "tails" and tails it was, so I got to go home with him and his family. I'm sure the other family was nice, too, but I'm very happy to be Finnegan Tails McConnell.
One of my favorite things to do is go on a walk. Someone named Grancy stayed with me and my human brothers while my human parents were away recently. When we went on walks she said I was a connoisseur of all of God's creation. I don't know what that means, I just know there is so much to sniff in this world!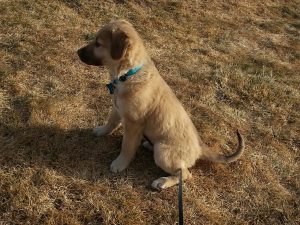 My favorite things to put in my mouth are sticks and rocks, but everyone makes me drop the rocks. Sometimes I see a plane in the air, a magpie in the scrub oak, or a bunny crossing the road very fast. I'm fascinated by all these things and easily distracted by anything that moves or makes noise. I'm also very interested in the deer that come into our yard, but even better is the poop they leave behind! Deer poop is the most fascinating substance there is, but no one in my family will let me eat it for some reason.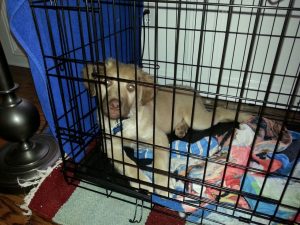 I spend a lot of time in my crate where I can sleep or watch everything that goes on in my new household. When I'm out I get to play around the house with cool toys and my favorite thing: a plastic bottle. It's amazing how easy it is to chew up a toy, however. They just don't seem made to last. Grancy got me a Scooby-Do to play with and the stuffing is already coming out of it. Not sure how that happened!
I like to help around the house when I can. Once when Grancy was folding laundry, I grabbed a pair of underwear out of the laundry basket. Then I raced all around with it as fast as I could go! Eventually Grancy caught me and made me give the underwear back. I have to say she moves pretty well for a woman her age!
My day is made up of crate time, play time, walks, many potty breaks, and of course–meal time. I get fed twice a day and I never miss a meal. One of my favorite times of day is when I go to meet the school bus. I get so excited when I see my human brothers Peter and Liam get off the bus, and then we run up the hill to our house together.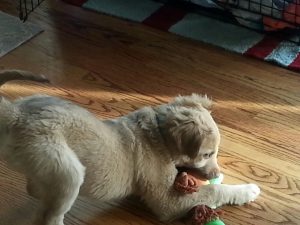 They play with me and try to train me to do things before it's time for my afternoon nap. My other human brother, Jack, is good about taking me out for potty breaks late at night and sometimes takes me to visit his friends. Everyone says I'm something called a "chick magnet," so maybe that's why. I know my human sister, Ellie, thought I was pretty cute when she was home from college.
Well, that's pretty much the story of my life so far. Finnegan, that's me!