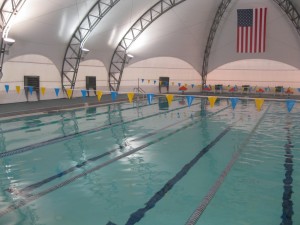 It was eerily quiet yesterday at the neighborhood pool where I swim laps. The only sound was that of the water with each stroke I took. Gone was the cute little girl in the pink suit who accidentally kicked me in the nose when she crossed my lane to join her friends. Gone were the two little dark-haired boys who reminded me so much of my own two at their ages. They spent most of the summer mastering spitting water between their front teeth, and I could still imagine their giggles echoing off the walls. But yesterday I was the only person in the entire pool area. Even the teen-aged lifeguard was missing, replaced by a sign that read, "Warning: No lifeguard on duty."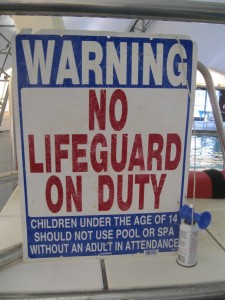 Where were they all? They all went back to school. As I swam I wondered how their day was going. Was the little girl dressed in her new fall clothes, her hair pulled back in a curly ponytail with a pink scrunchie? Were the boys wearing their stiff new jeans and already counting the minutes till recess? Had the lifeguard traded his terminally bored expression for a grin when he saw familiar faces again?
Of course my mind also lingered on images of our own twelve grandchildren as I made my way down and back, down and back, in the cool water. Each time my smart phone chirped to tell me I had a text this week it was another back-to-school photo sent by a proud and thoughtful mom.  These images and more flooded my mind as I swam and prayed, swam and prayed.
Back-to-school time means so much more than new backpacks, cool outfits and sharp pencils, doesn't it? More than anything it's a time of hope—a time when everything feels new and all things seem possible.
It's the year for milestones in our family.  We waved two granddaughters off to college, one for the first time, after they stopped by our house on their way. I let the images of them leaving our driveway, their cars packed to the hilt, linger in my mind for a lap or two. Three more granddaughters started high school this year. How grown up they looked in their first-day photos. But I knew the butterflies we couldn't see were there, too, so I prayed they would feel confident and connect with at least one good friend.
Two grandsons and a granddaughter started middle school, heading into those years when they want to be cool and accepted so badly it's painful. I prayed they would allow themselves to lighten up and have some fun. Being a teenager can wait.
So that leaves four more, all boys: two headed to first grade, one to kindergarten, and one to preschool! All these milestones deserve to be celebrated and prayed over, but none more so than that of our grandson Josh who is challenged by brain damage but leaving his home and parents for the first time to go to first grade! I don't know who is showing more bravery, he or his parents.
Lord, be with all the children we know and those we don't as they go to school this year. Whether in our country or in third world countries where just one sharp pencil might be a treasure beyond belief, they are precious in your sight. Bless them, Lord, and keep them safe as they grow and learn under your watchful eye. In You we always have a lifeguard on duty.