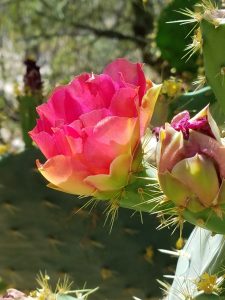 Living in Colorado Springs, a place that just got 8-12" of snow on May 20, I often fantasize about spring. Usually my fantasy is of the rolling green hills of East Tennessee, the azaleas, dogwoods, tulips and irises. But this spring found us in Tucson, AZ, for a granddaughter's graduation, a Mother's Day celebration, and a daughter's 50th birthday party all on one weekend. There I discovered a different kind of spring that I can fantasize about in years to come—a Sonoran desert spring!
On this busy weekend away my husband Jim and I were surprised to discover that we had three hours to ourselves between celebrations. A friend told me about Tohono Chul botanic gardens in north Tucson, so we hopped in our rental car and off we went. I was charmed the minute we got out of the car and I heard the endearing sound of hummingbirds in flight. And why not? Later I learned they have their own garden at Tohono Chul, which translated means "desert corner."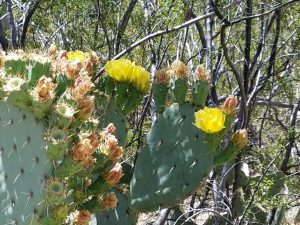 As with most preserves, this 49-acre oasis in the middle of Tucson's urban sprawl began in the hearts of people recognizing its beauty and wanting to make it available to generations to come. University of Arizona geologist Richard Wilson and his wife Jean began purchasing property in the area in the late 1960s. According to the brochure, their home at the time was a hacienda-style building which now houses the Tohono Chul Garden Bistro—an inviting spot where I hope to lunch another day.
"At first, we just went out and put down some lime to make a path and marked the names of some plants and bushes, but then it started to snowball," the Wilsons said. "Snowball" may be an odd choice of words to describe the progress of a desert garden, but grow it did and Tohono Chul Park was formally dedicated on April 19, 1985.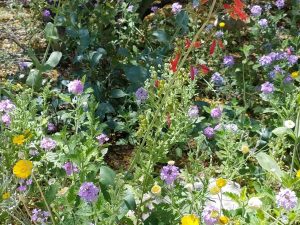 The trails that wind through Tohono Chul are full of enchanting discoveries from the stately saguaro cacti to the smallest desert wildflowers. One unexpected turn of events was that I had sprained my ankle on a walk the day before, so the kind volunteers at the garden offered us a wheelchair. Not only did I quickly grow more empathetic toward friends and relatives I love who must spend their lives in wheelchairs, I realized Jim and I have a lot to learn about navigating with one.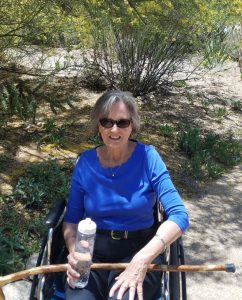 We entertained other visitors with my cries of, "Wait! Back up!" or "No, I want to go this way!" A patient husband is a wonderful gift indeed, but I suspect there was some eye-rolling I didn't see that elicited the smiles of passersby! My hobbled status gave me a unique perspective on this new kind of spring, however. When I realized how blessed I was to have a husband who made sure I got to see the gardens I wanted to see—and that I never would have noticed that a lizard friend was shedding his skin had I not been closer to his level—the verse from 1 Thessalonians 5:18 came to mind: Be joyful always; pray continually, give thanks in all circumstances, for this is God's will for you in Christ Jesus.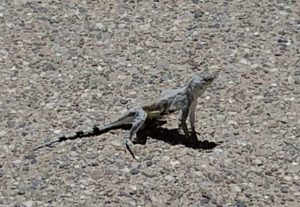 Thankful for family celebrations. Thankful for a caring husband. Thankful my injury was only temporary. Thankful for the walking stick I purchased in the gift shop—made of real Colorado aspen! Thankful for the warm memory of a Sonoran desert spring as I watched the snow fall back home.
(For more information on Tohono Chul, look here.)