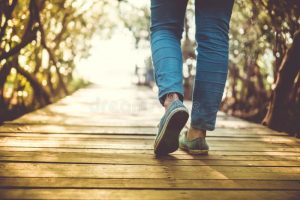 Anxiety? Frustration? Cabin fever? Spring is here and it's time to walk it out! Excuses for not taking a walk are easy to come by. It's too cold. It's too windy. It might rain. I walked yesterday…or one day last week. Yet the benefits of actually tying up those walking shoes and hitting the trail, the sidewalk, or even the track at a school near you, should be enough to overcome the excuses.
According to health experts the benefits of walking even 20-30 minutes a day include: heart health, weight loss, increased respiratory function, increased immunity, a chance for safe socialization outside, and plain old happiness. You feel better physically and emotionally when you have a walking routine (which is easier to stick to if you have a walking buddy). Besides, you don't need lessons to learn how to walk for exercise, and you can do it almost anywhere.
Dog owners without fenced yards are encouraged by their canines to take walks a couple of times a day at least. Who can resist those big eyes imploring you to come explore the great outdoors with a best friend?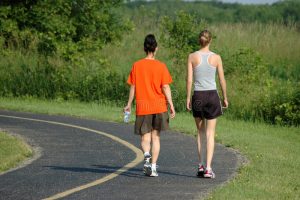 Once my husband and I were visiting my stepdaughter and her husband. The young couple never cooked at home so my husband was trying to explain how easy it is to throw a variety of ingredients into a wok for a quick and easy meal. Every time he said the word wok, however, their dog would appear in front of him with his leash in his mouth. We soon realized that he thought Jim was saying "walk" not "wok"! Hard to resist for sure.
Physical ailments can impair our ability to walk, of course, which is why I never take a pain-free walk for granted. I once had a heel issue for about two years and couldn't walk—but gratefully found out I enjoyed swimming laps instead. Toe pain, plantar fasciitis, creaky knees, hips or ankles can all take the joy out of a nice walk, but wanting to get back to walking provides the motivation to work on alleviating the ailments as soon as possible. Start where you are and step out as much as you can.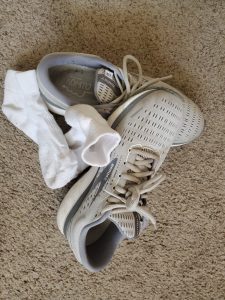 In fact, whatever it is that's bugging you this spring, go walk it out. It doesn't matter how far you go or how fast you walk. Need some spiritual guidance? Turn your walk into a prayer walk. Struggling with a problem or relationship? The fresh air alone can clear the cobwebs and give you a clearer perspective by the time you return home.
As I was writing this blog post my husband stuck his head into my office and said, "I'm going for a walk, want to come?" My response was, "Sorry, I have to finish this post on the benefits of walking." Hmmm… someone needs to follow her own advice. Now that I'm done, I think I'll go for a walk.